Nuworld Botanicals The Blending Bar Cold-Pressed Whipped Avocado Balm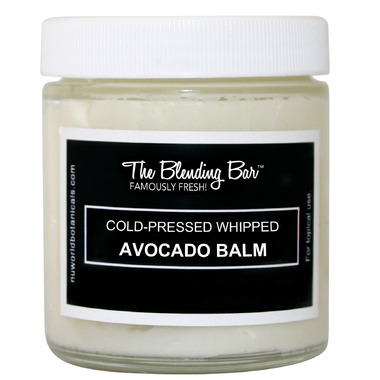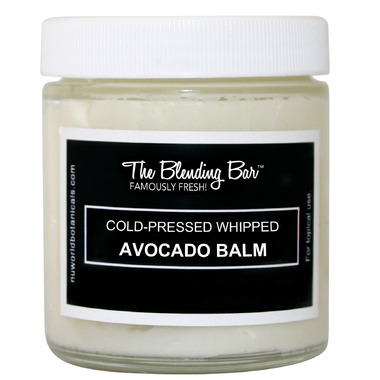 Nuworld Botanicals The Blending Bar Cold-Pressed Whipped Avocado Balm
The Blending Bar Cold-Pressed Whipped Avocado Balm is a luxurious and versatile balm that can be used as a body balm, massage balm, anti-aging eye balm, cuticle balm and more. Extremely rich in natural oils, proteins, antioxidants and fatty acids, it leaves a smooth, satiny finish on the skin. Ideal for those with very dry and sensitive skin.
Skin-Nourishing Benefits:
Cold-pressed organic unrefined Avocado oil has natural sunscreen properties, along with Vitamins A, B, C and E which make is a wonderful moisturizing treatment for dry, damaged skin
Fractionated Coconut oil is an excellent moisturizer and skin softener, rich in vitamins A, C and E
Cold-pressed organic Cupuacu butter reduces skin degeneration and assists in skin flexibility, smoothness and softness; promotes long lasting hydration.
Organic Shea butter is known for its moisturizing and emollient properties, rich in vitamins and fatty acids, it penetrates deeply into the epidermis
Multi-uses:
Use as an all-over body balm, massage balm, anti-aging eye balm treatment, lip balm, after-sun balm, foot balm, cuticle balm and more. Makes a wonderful addition to any DIY natural skincare and bodycare product.
Ingredients:
Shea (Butyrospermum parkil) butter, Cupuacu (Theobroma grandiflorum) butter, Coconut fractionated (Caprylic triglyceride) oil, Avocado (Persea American) oil, Tocopherol
For external use only. Natural, Organic, Vegan, Fair Trade, Canadian Brand