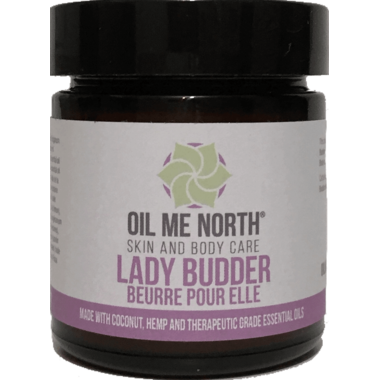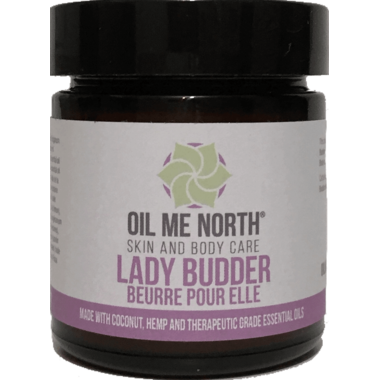 - We're sorry, this product is no longer available!
- Shop for other products in: Body Lotion

Oil Me North Lady Budder is a beautiful creation that was specifically inspired for women's health. This Super Budder is a full body tonic, assisting in the balancing and daily health of Skin, Body and Mind.
Skin Benefits:
Promotes and supports beautiful skin
Helps dry, brittle or dehydrated skin
Effective against acne, eczema and other inflammatory skin issues
Physical Benefits:
Balancing effect for PMS, Menopause and menstrual irregularities
Destroys fungal and bacterial infections
Boosts the body's immunity
Mental Benefits:
Improved sleep
Helps those struggling from nervousness, exhaustion, insomnia, irritability, depression, stress and anxiety
Directions:
Apply Daily to entire body or desired areas. For external use only.
Ingredients:
Organic Coconut oil, Organic Hemp oil, Marjoram essential oil (Origanum majorana), Marjoram essential oil (Origanum majorana), Lavender essential oil (Lavandula angustifolia), Clary Sage essential oil (Salvia sclarea), Lemon essential oil (Citrus limon), Geranium essential oil (Pelargonium graveolens), Jasmine essential oil (Jasminum officinale), Rose essential oil (Rosa damascene).
Please note:
Due to the high amount of Coconut Oil in this product, it naturally becomes liquid at room temperature. Store product in the fridge to keep solid.
Wildcrafted, Organic, Non GMO, Vegan, Fair Trade, All Natural, Eco Friendly, Non Toxic, Made in Canada