Sun Protection and Tanning Enhancer
50 mL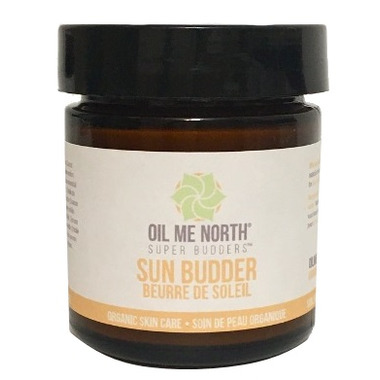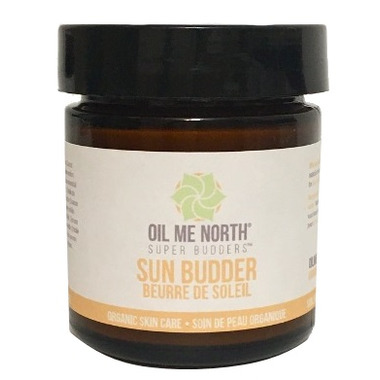 Oil Me North Sun Budder
Sun Protection and Tanning Enhancer
50 mL
Who would have thought sun protection could be so healthy? Oil Me North Sun Budder is blended with organic, natural and non GMO ingredients to aid in sun and tanning needs with additional benefits for Skin, Body and Mind.
Skin Benefits:
Organic sun/tanning protector and enhancer
Great for correcting and balancing all skin types
Repairs sun damaged skin
Deters wrinkles, dermatitis, eczema
Rashes and skin discolouration
Physical Benefits:
Stimulates detoxification
Enhances blood circulation
Aids the central nervous system
Mental Benefits:
Can bring relief from anxiety, stress, and depression
Fortifies and soothes the spirit
Can relax and deepen breathing
Directions:
Apply Daily to entire body or desired areas. For external use only.
Ingredients:
Organic Coconut oil, Organic Olive oil, Organic Hemp Oil, Zinc Oxide Powder Non–Nano, Organic Beeswax, Carrot seed essential oil (Daucus carota sativa), Lavender essential oil (Lavandula angustifolia), Frankincense essential oil (Boswellia carterii†).

Please note:
Due to the high amount of Coconut Oil in this product, it naturally becomes liquid at room temperature. Store product in the fridge to keep solid.
Wildcrafted, Organic, Non GMO, Fair Trade, All Natural, Eco Friendly, Non Toxic, Made in Canada