Olay Pro-X Microdermabrasion Plus Advanced Cleansing System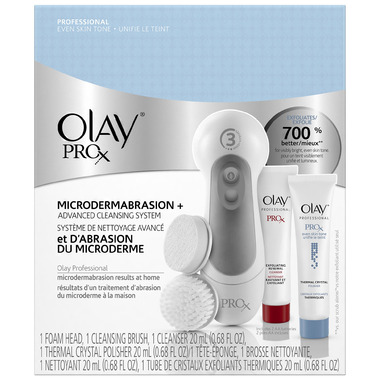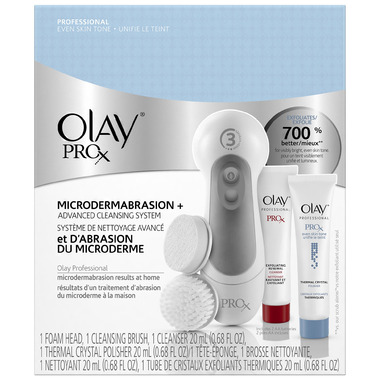 Olay Pro-X Microdermabrasion Plus Advanced Cleansing System
Exfoliation is a critical step for revealing more youthful, brighter skin. The Olay Pro-X Microdermabrasion System gives you these vivid results by removing the layers that life puts on. You'll help treat the appearance of imperfections, dull patches and surface discoloration for a visibly improved texture and a more even skin tone.

System includes:
3 Speed Facial Cleansing System,
Microdermabrasion Foam Head,
Cleansing Brush Head,
Thermal Crystal Polisher (0.68 fl. oz.),
Exfoliating Renewal Cleanser (0.68 fl. oz.),
2 AA Duracell Batteries
How to Use: Press system head onto connection pin until it clicks into place. Dampen facial skin and system head with water. Apply Pro-X formula to face. Turn on system. Gently massage on face for 60 seconds. Avoid eye area. Rinse face and system head with water. Advanced Daily Cleansing gentle enough for daily use on days when microdermabrasion treatment not used. Microdermabrasion treatments should be limited to 2 non-consecutive days/week. Replace system head as needed.