Oli and Carol Elvis the Duck Blue Polka Dots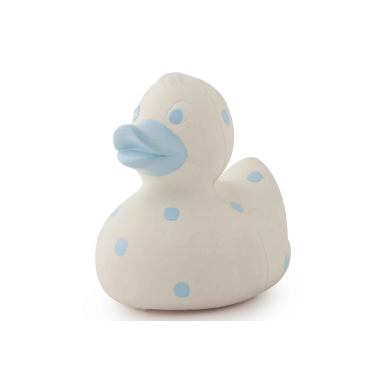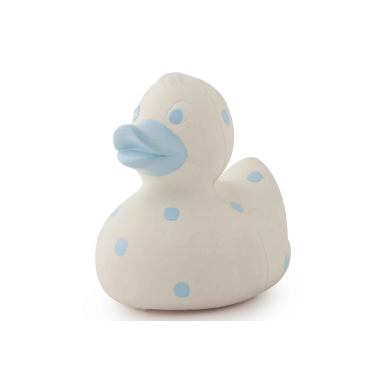 Oli and Carol Elvis the Duck Blue Polka Dots
- We're sorry, this product is no longer available!
- Shop for other products in: Bath Toys

These retro, hand painted, spotty ducks will swim around with your kids in the bathtub, inspiring imagination and creating splashing memories. Elvis the duck is hand-crafted with no holes so when they're floating about, no bacteria or mold is present! Completely safe for kids, worry-free play!
Used as teethers, bath toys, decorative objects and more! Stimulates baby's senses and soothes teething gums.
Features:
Made from 100% natural latex taken from Hevea Malaysian trees and hand painted with safe, natural food graded dyes.
Designed with no holes to prevent mold and bacteria.
Ecologic, biodegradable, and eco-friendly.
Non-Toxic: BPA, PVC, Phthalate and Nitrosamine free.
Anti-bacterial and highly hygienic
Soft, easy to grasp and safe to chew.
Multi-purpose

Care Instructions:
To clean, simply wipe your toy with soapy water and a damp cloth. Store in a dry place. If left on the side of a bath or on tile that may be slightly wet or moist, the toys will start to mold (like any natural products). Air drying between use, is recommended. Do not leave the toy in direct contact with sunlight or any artificial light for long periods of time, as the color may fade away. Remove packaging and all tags before giving the toy to your child. Oli & Carol toys are 100% natural, so small imperfections or inconsistencies are normal. Do not sterilize.
Designed in Spain. Made in Morocco.