Orange Naturals Cold Relief Tincture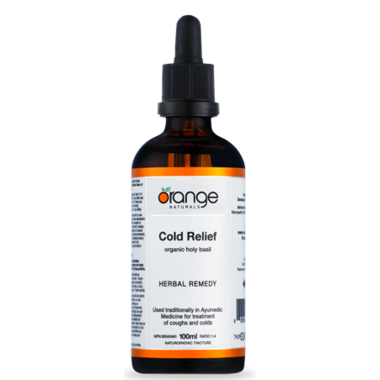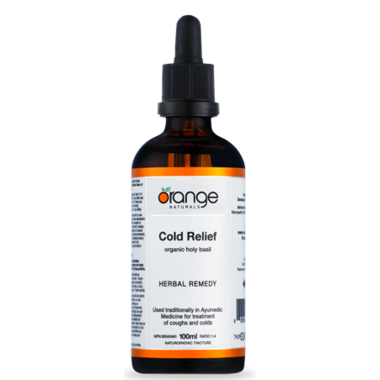 Orange Naturals Cold Relief Tincture
- We're sorry, this product is no longer available!
- Shop for other products in: Tincture Formulas

Orange Naturals Cold Relief Tincture contains Holy Basil. Holy Basil has been used traditionally in Ayurvedic Medicine for centuries to help relieve coughs and colds. It is particularly effective at encouraging the clearing of mucous from the lungs (an expectorant). As well, Holy Basil is known as an adaptogen herb which can help to increase one's energy and resistance to stress.
Benefits:
Natural
Gluten Free
Vegan
Soy Free
Dairy Free
Features
Made from an organic herb
Therapeutic dosage
Tincture is rapidly absorbed and metabolized – absorption begins in the mouth, allowing the body to absorb up to 98% of the medicinal components
Large 100 ml bottle size offers great value
Medicinal Ingredients
: Each ml contains 250 mg of organically grown holy basil leaves (Ocimum sanctum). It is a 1:4 leaf extract.
Non Medicinal Ingredients
: 40% gluten-free grain alcohol and purified water.
Recommended Use
: Used traditionally in Ayurvedic Medicine as a heart tonic and for treatment of coughs and colds.
Directions
: Take 3 mL, 3 times per day on an empty stomach.
Contraindications
: Do not use if you are pregnant, breastfeeding, or attempting to conceive.
Cautions
: Consult a healthcare practitioner prior to use if you have diabetes.
Drug Interactions
: Consult a healthcare practitioner prior to use if you are taking heart or blood pressure medications, medications for diabetes, or painkillers, such as acetaminophen or acetylsalicylic acid.