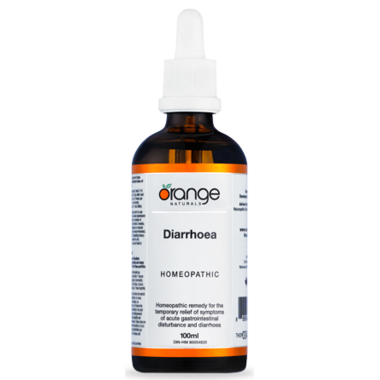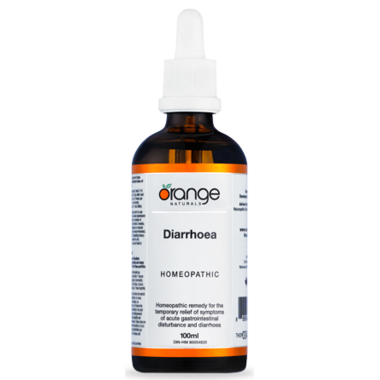 Orange Naturals Diarrhea can help with issues associated with this symptom. Diarrhe is defined as an increase in the fluidity and frequency of stools that are passed and it can be accompanied by cramps, nausea, vomiting and a fever. It is usually a temporary condition that passes within 12 to 48 hours. Diarrhea lasting longer than this requires medical attention. The causes of diarrhea are numerous ranging from food poisoning, to allergies to the overconsumption of certain supplements (for example magnesium citrate or vitamin C).
Benefits
For symptoms of diarrhea such as loose or watery stool, frequent passage of stool
Temporary relief of symptoms associated with acute gastrointestinal disturbances such as excess flatus or gas, frequent stools, mucous in the stool
Features
Liquid format is simple to administer and absorbs quickly
No artificial flavours
Medicinal grade alcohol base
Directions:
Ages 12 years and over: for general dosing, take 1ml, 3 times per day under the tongue or in a little water. For acute symptoms, take 1ml every 30-60 minutes (up to 12 times per day). When symptoms improve, resume general dosing. Shake well before each use.
Ingredients:
Aloe socotrina 3CH, Cinchona officinalis 3X, Colocynthis 6X, Croton tiglium 3CH, Gratiola officinalis 1X, Mercurius corrosivus 6X, Natrum sulphuricum 6X, Phosphorus 3CH, Podophyllinum 6CH, Veratrum album 1CH.
Caution:
Discontinue use immediately and consult a healthcare practitioner if you have bloody or black-coloured stool. Consult a healthcare practitioner prior to use if you are pregnant or breastfeeding, and during use if symptoms persist or worsen or if new symptoms develop. Do not use if seal is broken. Keep out of reach of children.

Gluten free, Soy Free, Nut Free,