Orange Naturals Ginkgo Biloba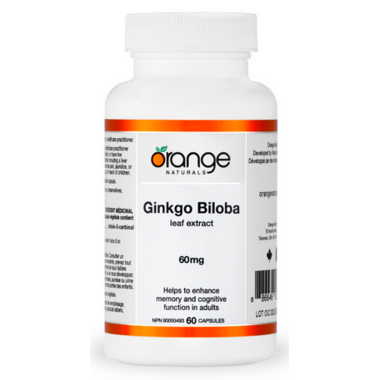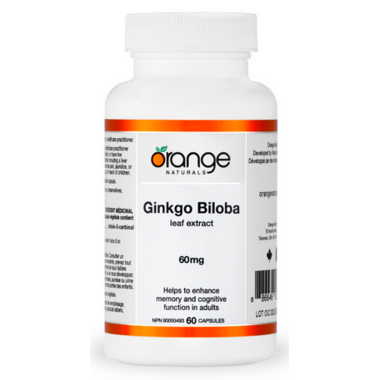 Orange Naturals Ginkgo Biloba
Ginkgo opens up the pathways to your mind. This remarkable plant increases circulation to the brain and keeps it well-nourished to help enhance memory and concentration. Better blood flow helps even those cold fingers and toes to warm up! Research into ginkgo holds promise with respect to dissolving destructive amyloid plaques. These sticky and tenacious plaques build up in the brains of patients with Alzheimer's disease. We await the results of this important research.
Recommended Use: Helps to improve memory and cognitive function in adults

Directions: Adults: take 2 softgels per day. Consult a healthcare practitioner for use beyond 6 weeks.

Ingredients: Ginkgo biloba 60mg, 50:1 leaf extract (24% flavoglycosides, 6% terpene lactones).

Non-medicinal ingredients: Microcystalline cellulose, magnesium stearate, gelatin.
Cautions and Warnings:Consult a healthcare practitioner prior to use if you have a bleeding disorder.
Contraindications: Do not use for 7 days before or after surgery, or if you are pregnant or breastfeeding.
Potential or Known Drug Interactions: Do not use if you are taking health products affecting blood coagulation such as blood thinners, clotting factor replacements, acetylsalicylic acid, ibuprofen, fish oils, or vitamin E. Consult a healthcare practitioner prior to use if you are taking medications or natural health products for high blood pressure, diabetes, or seizures