Orange Naturals PMS + Cramp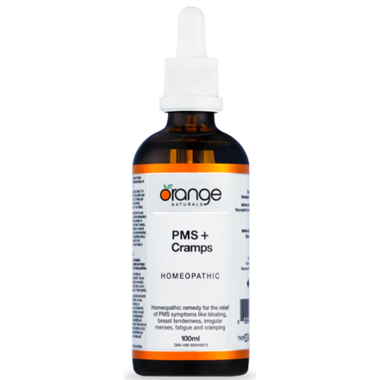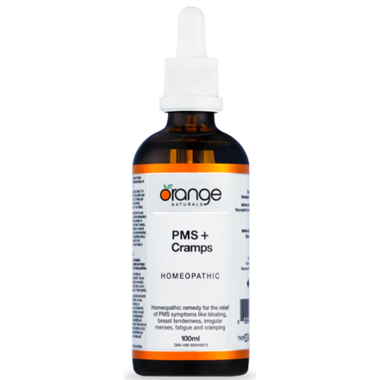 Orange Naturals PMS + Cramp
Orange Naturals PMS + Cramp is a natural remedy for PMS and cramps. Did you know that you can easily avoid period pains and PMS? Vanquish them for good. Find relief from bloating, breast tenderness, irregular menses, fatigue, irritability and cramping through homeopathy. Orange Naturals PMS + Cramp homeopathic drops can be used either prophylactically before PMS sets in or acutely during your period.
Let these drops be your secret weapon every month.
Benefits
Alleviates menstrual pain and cramping associated with menstrual cycles
Reduces breast tenderness and bloating
Promotes stable moods to prevent mood swings and the "blues" associated with PMS
All natural active ingredients
Medicinal grade alcohol base
Hormone free – it's PMS relief without synthetic hormones
Gluten Free

Ingredients:
Each mL contains:
Actaea racemosa 3CH,
Aletris farinosa 3X,
Chamomilla 3X,
Helonias dioica 3X,
Lilium tigrinum 3X,
Magnesia phosphorica 8X,
Sabina 3X,
Senecio aureus 3X.
Directions:
Ages 12 years and over: for general dosing, take 1ml, 3 times per day under the tongue or in a little water. For acute symptoms, take 1ml every 30-60 minutes (up to 12 times per day). When symptoms improve, resume general dosing. Shake well before each use.

Warnings:
Consult a healthcare practitioner prior to use if you are pregnant or breastfeeding. Consult a healthcare practitioner if you do not have a period beyond two cycle lengths, if you experience abnormally heavy or prolonged menstrual flow, if symptoms persist or worsen, or if new symptoms develop. Do not use if seal is broken. Keep out of reach of children.