Orange Naturals Wet Cough for Kids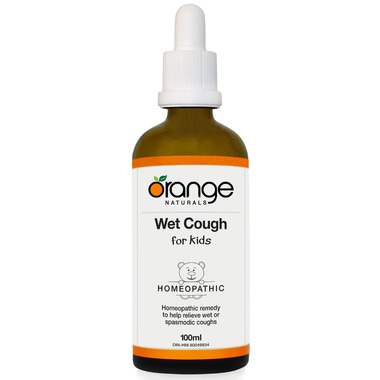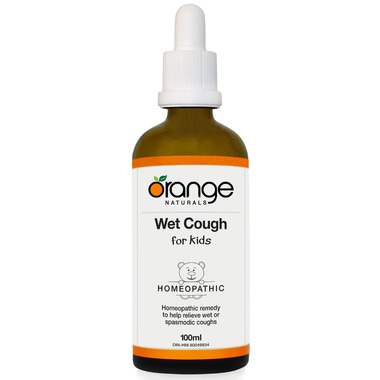 Orange Naturals Wet Cough for Kids
Try Orange Naturals Wet Cough for Kids – a homeopathic formula that helps relieve wet, tickling and spasmodic coughs.
A cough can be exhausting and keep your little one awake at night. A wet cough in particular can be a challenge. Rattling coughs with thick, sticky mucous that sticks to the lungs can lead to a suffocating type of cough, or a cough that resembles a cat with a hairball. So, stop doing the Pussin' Boots hairball routine, and try soothing your child's cough with this excellent homeopathic remedy. You'll be purring and mastering your cat naps in no time.
Benefits:
Relieves wet coughs
Helps to break down thick mucous
Soothes irritated throat
Works without stimulant side effects
Non drowsy
No artificial flavors
All natural active ingredients
Great tasting – in a glycerin base kids will love
Gluten Free
Ingredients:
Each mL contains:
Antimonium tartaricum 3X,
Coccus cacti 6CH,
Hepar sulphuris calcareum 30CH,
Kali bichromicum 30CH,
Pulsatilla 3X.
Directions:
For general dosing, ages 0-11 years: take 0.5ml, 3 times per day; age 12 years and up: take 1ml, 3 times per day. For acute symptoms, ages 0-11 years: take 0.5ml every 30-60 minutes (up to 12 times per day); age 12 years and up: take 1ml every 30-60 minutes (up to 12 times per day). When symptoms improve, resume general dosing. Take under the tongue or in a little water. Shake well before each use. Refrigerate after opening.

Warnings:
Consult a healthcare practitioner prior to use if you are pregnant or breastfeeding, and during use if symptoms persist or worsen, or if new symptoms develop. Do not use if seal is broken. Keep out of reach of children.

CarolD:
more than a year ago
It does relieve wet cough, but I think it might be a little too strong if just put under the tongue for little ones. The second option of putting it in some water is probably the best. I found that it was too acid for my little ones mouth. Even for myself I put it in some water. But it does work.
Page
1