Orange Naturals Wet Cough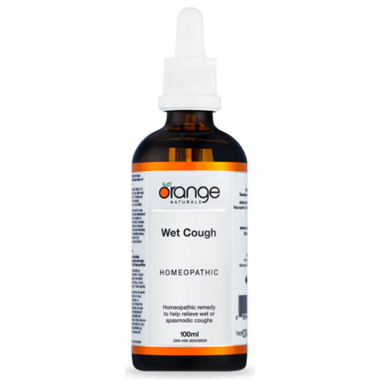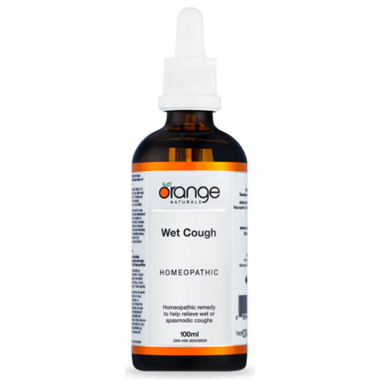 Orange Naturals Wet Cough
Orange Naturals Wet Cough helps alleviates an individual's wet cough. A cough can be exhausting and keep you awake at night. A wet cough in particular can be a challenge as you try to cough up that rattling, thick, sticky mucous that insists on clinging to your lungs. It can lead to a suffocating type of cough, or the type of cough that feels like a cat trying to cough up a hairball.
Orange Naturals Wet Cough homeopathic formula can help relieve wet, tickling and spasmodic coughs.

Benefits
Relieves wet coughs
Helps to break down thick mucous
Soothes irritated throat
Works without stimulant side effects
Non drowsy
No artificial flavors
All natural active ingredients
Gluten Free
Ingredients:
Each mL contains:
Antimonium tartaricum 3X,
Coccus cacti 6CH,
Hepar sulphuris calcareum 30CH,
Kali bichromicum 30CH,
Pulsatilla 3X.
Directions:
Ages 12 years and over: for general dosing, take 1ml, 3 times per day under the tongue or in a little water. For acute symptoms, take 1ml every 30-60 minutes (up to 12 times per day). When symptoms improve, resume general dosing. Shake well before each use.
Warnings:
Consult a healthcare practitioner prior to use if you are pregnant or breastfeeding, and during use if symptoms persist or worsen, or if new symptoms develop. Do not use if seal is broken. Keep out of reach of children.