Organika Children's Liquid Multi-Vitamin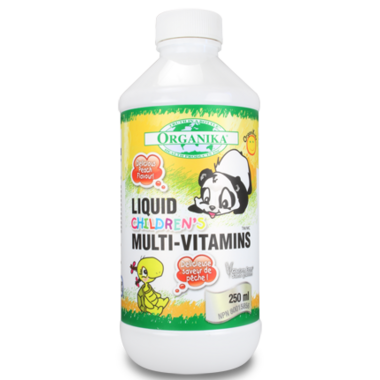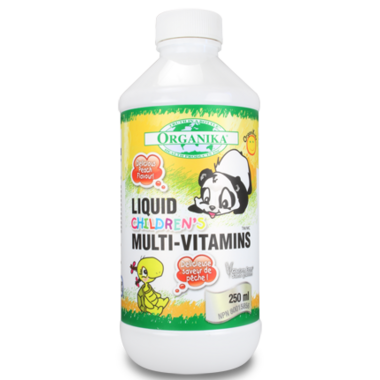 Organika Children's Liquid Multi-Vitamin
Organika Children's Liquid Multivitamin is a great source of fat-soluble and water-soluble vitamins meant for the healthy development of kids ages three and older.
Contains Vitamin E, D, and A to support healthy skin, vision, bone and cognitive development. Easy to use liquid format, for kids who do not prefer capsules.

Directions: Take 1 tablespoon (15 ml) per day with food.

Medicinal Ingredients: Each Tablespoon Contains:
Beta-Carotene………………570 mcg (285 mcg RAE1) (all-trans Beta-Carotene)
Vitamin A (Palmitate)………573 mcg (315 mcg RAE1)
Vitamin B1 (Thiamine Hydrochloride)……………1.6 mg
Vitamin B2 (Riboflavin)………………………………2 mg
Vitamin B3 (Niacinamide)……………….…………10 mg
Vitamin B5 (Calcium-d-Pantothenate)……………13 mg
Vitamin B6 (Pyridoxine Hydrochloride)……….……1 mg
Vitamin B12 (Cyanocobalamin)…………...………3 mcg
Vitamin C (Calcium Ascorbate)…………....….…100 mg
Vitamin D3 (Cholecalciferol)...……………………10 mcg
Folate (Folic Acid)……………….…………………90 mcg
Vitamin E (d-alpha-Tocopherol)..……………………7 mg
AT2 (10 IU) 1Retinol Activity Equivalent 2Alpha-(α)-Tocopherol

Non-Medicinal Ingredients: Purified Water, Apple Juice Concentrate, Xanthan Gum, Natural Peach Flavour, Sodium Benzoate, Potassium Sorbate, Citric Acid Monohydrate.