Organika High Potency Grape Seed Extract
95 % OPC 100mg
120 Capsules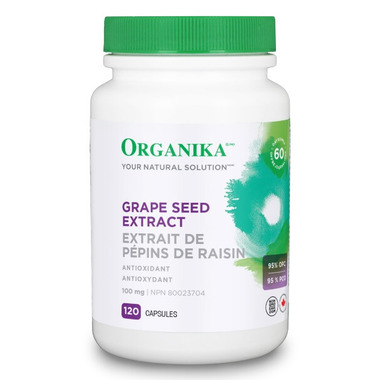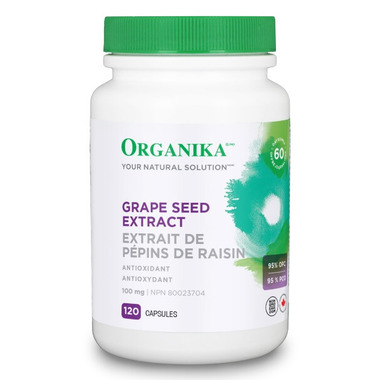 Organika High Potency Grape Seed Extract
95 % OPC 100mg
120 Capsules
Grape seeds contain oligomeric proanthocyanidins (OPCs). OPCs are a group of
flavonoids with powerful antioxidant potential. Every day our body is faced against free radicals from pollutants, UV radiation, infection or as a by-product of metabolism. By neutralizing free radicals, antioxidants protect cells from oxidative damage.
Benefits
:
Potent source of antioxidants that reduce damage to skin, heart, brain cells and major organs

High potency version of Grape Seed Extract at 95% for maximum effect

Formulated with citrus bioflavonoids that assist the absorption of Vitamin C within the body for metabolism and wound-healing
Recommended Dosage: Take 2 capsules per day.
Ingredients (Each Capsule Contains):
MEDICINAL INGREDIENTS – EACH CAPSULE CONTAINS:
Grape Seed Extract (Vitis vinifera L.) 100 mg
(Standardized to contain 95% Oligomeric Proanthocyanidins (OPC))
Citrus Bioflavonoids (from fruit peel of Citrus sinensis) 37.5 mg

NON-MEDICINAL INGREDIENTS:
Rice Powder, Magnesium Stearate (Non-GMO Vegetable Source), Gelatin (Capsule).

Caution
: Consult a health care practitioner prior to use if you are pregnant or breastfeeding; or if you are taking any prescription medications.