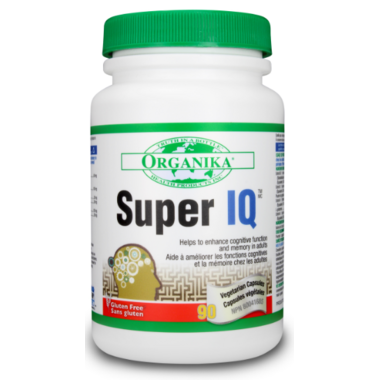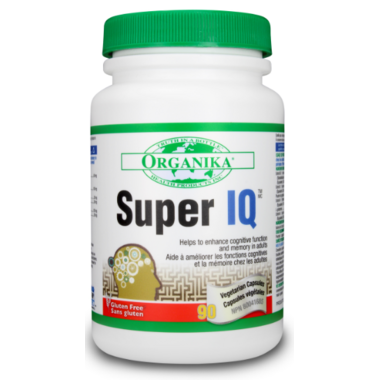 - We're sorry, this product is no longer available!
- Shop for other products in: More Herbal Formulas

Organika Super IQ helps to improve cognitive function and memory in adults through the synergistic action of six ingredients. Balances energy levels and reduces the fatigue associated with mental sluggishness and lack of focus.
Features:
Helps to enhance cognitive function and memory in adults
Helps improve mental and/or physical performance after periods of mental and/or physical exertion

Directions:
Take 1 capsule two times per day with a glass of water.
Medicinal Ingredients:
Each Capsules Contains:
Ginkgo Biloba 50:1 Leaf Extract (Ginkgo biloba) …………………………. 60 mg
(Standardized to contain 24% Flavonoid Glycosides and 6% Terpene Lactones)
(Equivalent to 3000 mg dried Ginkgo Biloba leaf powder)
Siberian Ginseng 5:1 Root Extract (Eleutherococcus senticosus) .....…100 mg
(Equivalent to 500 mg dried Siberian Ginseng root powder)
Kola Seed Powder (Cola acuminata) ……………………………………… 30 mg
Eyebright 4:1 Herb Extract (Euphrasia officinalis) ………………………. 30 mg
(Equivalent to 120 mg dried Eyebright herb powder)
L-Glutamine ………………………………………..........………………… 150 mg
Cordyceps 4:1 Mycelium Extract (Ophiocordyceps sinensis) .………… 50 mg
(Equivalent to 200 mg dried Cordyceps mycelium powder)
Non-Medicinal Ingredients:
Brown Rice Flour, Magnesium Stearate, Hypromellose / Pullulan (Vegetarian Capsule).
Caution:
Consult a health care practitioner if symptoms persist or worsen. Consult a health care practitioner prior to use if you have any type of acute infection or lung problems; are taking immunosuppressive, diabetes or seizure medications, or any other medications; or are following a low protein diet. Do not use if you are taking health products that affect blood coagulation (e.g. blood thinners, clotting factor replacements, acetylsalicylic acid, ibuprofen, fish oils, vitamin E) as this may increase the risk of spontaneous bleeding; have high blood pressure; or if you are pregnant or breastfeeding. Hypersensitivity / allergy is known to occur, in which case, discontinue use.