Overby Farm Hip Flex Tablets with Tart Cherries
Joint Level 2 - Moderate Care
120 Tablets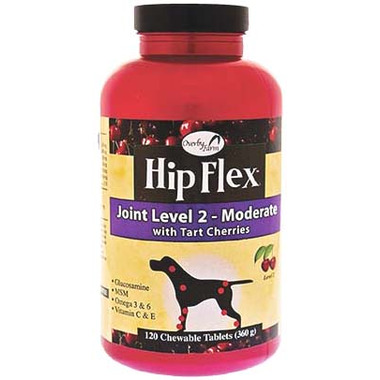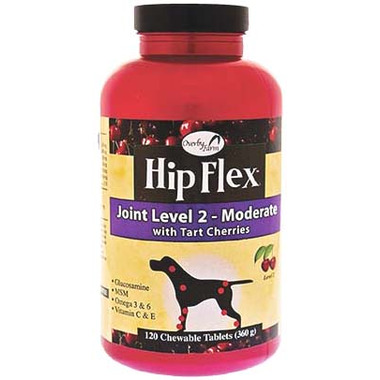 Overby Farm Hip Flex Tablets with Tart Cherries
Joint Level 2 - Moderate Care
120 Tablets
Overby Farm Hip Flex Tablets are formulated for Level 2 Joint Care in your dog! These tablets are designed to promote joint health and agility in active and aging canines, while helping to alleviate aches and discomfort associated with daily exercise.
Features:
With tart cherries
Glucosamine
MSM
Omega 3 & 6 fatty acids
Vitamin C & E
Active Ingredient:
Glucosamine HCL (Shellfish source) (550 mg), Methylsulfonylmethane (MSM) (400 mg), Ascorbic Acid (Vitamin C) (150 mg), Tart Cherry and Dark Berry Proprietary Blend (50 mg), Linolenic Acid Omega 3 (Flaxseed) (12000 mg), Linolenic Acid Omega 6 (Flaxseed) (2600 mg), and di-Alpha Tocopheryl (Vitamin E) (5 IU).
Inactive Ingredients:
Citric Acid, Dicalcium Phosphate, Magnesium Stearate, Malt, Maltodextrins, Microcrystalline Cellulose, Mixed Tocopherols, Natural Flavoring, Rosemary Extract, Silica Aerogel, Stearic Acid and Vegetable Oil.
For use with Dogs only! Always follow the instructions attached to the label of this product!