OXO Tot Perfect Pull Wipes Dispenser Aqua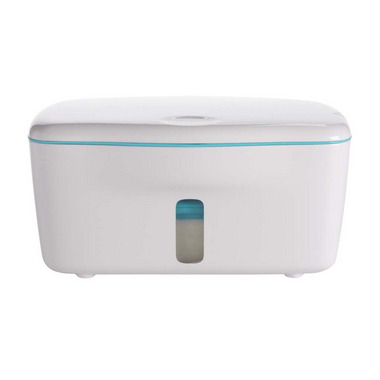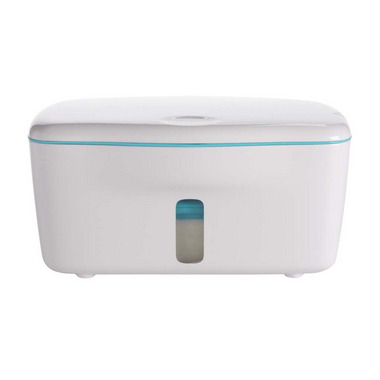 OXO Tot Perfect Pull Wipes Dispenser Aqua
Diapers, wipes, powders, creams and a little one wriggling around on your changing table is a lot to handle! Simplify your diaper changing routine by keeping wipes conveniently within reach, with one-handed accessibility. The OXO Tot Perfect PullTM Wipes Dispenser opens with a simple push on the lid and allows you to easily remove one wipe at a time through a weighted interior plate that keeps the rest of the pile perfectly in place. No more fishing around in a disposable package; the next wipe will always be ready and waiting. The Dispenser lid seals in freshness with a silicone gasket ensuring that wipes stay moist and gentle for your little one. The Dispenser fits all pre-packaged, pop-up style wipes, up to a 100-count package, and can also be used for cloth wipes. A weighted plate and non-slip feet both help keep the Dispenser in place on your changing table or on top of the toilet tank when your little one transitions to flushable wipes. A clear front window lets you know when it's time to stock up on more wipes, polished plastic is easy to wipe clean and its sleek white design goes with any décor. When it comes to diaper changing, the OXO Tot Perfect Pull Wipes Dispenser is the next best thing to an extra pair of hands!

Features:
One-handed usage makes changing time a breeze
Weighted plate dispenses one wipe at a time and keeps the next wipe ready, upright and waiting
Dispenser lid opens with a simple push
Silicone gasket in lid keeps wipes fresh and moist
Non-slip feet and weighted plate keep Dispenser in place on changing table or back of toilet
Clear indicator window on front
Easy-to-clean polished plastic construction
Fits up to 100 wipes
Can also be used with cloth wipes
Katherine:
a few months ago
I bought this for my bathroom... and we don't even have kids! But its clean design--all white with a thin turquoise accent stripe--fits nicely. The design is ingenious: a click-down lid and a weighted piece inside the wipes holder means you can both open the dispenser AND pull out a wipe with just one hand. I use wipes in the bathroom for removing make-up, quick small clean ups and also for toilet-ary reasons :)

So this product is definitely not only for people with babies in diapers!
Page
1