PaleoEthics Organic Greens Natural Apple Flavor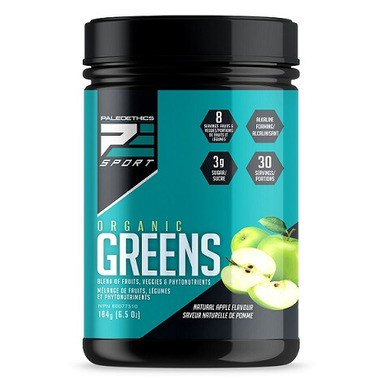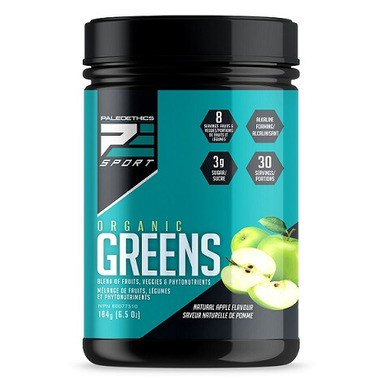 PaleoEthics Organic Greens Natural Apple Flavor
Super Greens is like a multi-vitamin, only it tastes great. High in vitamins and antioxidants, this product offers a range of natural ingredients that are delicious and certified organic.

SUPER NUTRIENTS
Packed full of ingredients derived from herbs, fruits, and greens – and completely absent of wheat, grasses and fillers – this general-purpose supplement will provide you with the essential micronutrients you need to feel your best.

ANTIOXIDANTS
100% natural and antioxidant-rich ingredients like acai berries and goji juice prevent cell damage by averting the production of damage-causing free radicals, and have even been proven to help mitigate certain types of cancers.

CERTIFIED ORGANIC
We care about what you eat, so we care about what we put in our products. Everything in our super greens blend is certified organic, 100% natural, and beneficial, making this supplement the optimal choice for the health-conscious and environmentally friendly.
Directions: Mix 1 scoop with 10-12 ounces (295-355 ml) of water, juice or smoothie

Ingredients:

Greens Blend: 3.21g: Organic Spinach Powder, Organic Kale Powder, Organic Moringa Leaf Powder, Organic Spirulina, Organic Chlorella Powder, Organic Broccoli Powder, Organic Parsley Powder, Organic Beet Kelp Powder

Fruits & Vegetables Blend: 1.8mg: Organic Apple Powder, Organic Beet Root Powder, Organic Sweet Potato Powder, Organic Carrot Juice, Organic Acerola
Antioxidant Blend: 655mg: Organic Coconut Water Powder, Organic Goji Juice Powder, Organic Pomegranate Powder, Organic Acai Powder, Organic Blueberry Powder


Herbal Blend: 50 mg: Licorice Root Extract, Organic Green Tea Extract, Grape Seed Extract, Panax Ginseng, Organic Ginger Root Powder, Organic Milk Thistle

Other Ingredients: Organic Stevia, Natural Apple Flavour