Pascoe
Pascoe Basenpowder Pascoe Multi-mineral Electrolyte Supplement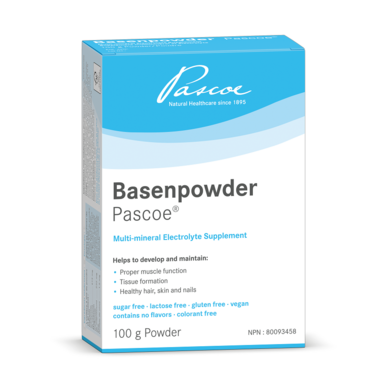 Pascoe
Pascoe Basenpowder Pascoe Multi-mineral Electrolyte Supplement
Description
Basenpowder Pascoe is a multi-mineral electrolyte powder supplement. The electrolyte powder and mineral supplement replenishes the body to support vital physical processes.

Features:

Helps to maintain proper muscle function
Helps in tissue formation and heart function
Healthy hair, skin and nails

Directions:
Adults and children 9 years and above: 1 teaspoon (4 g) once a day. Stir in a glass of water. Take with food, a few hours before or after taking other medications or natural health products.
Ingredients:
1 Teaspoon of powder (4g) contains:
Calcium 613mg, Magnesium 232mg, Zinc 1.5mg

Cautions:
Do not use for children under 4 years of age. Do not exceed the recommended daily dose. This product should not be used as a substitute for a balanced and varied diet, and a healthy lifestyle.
Highlights

Features
Helps to maintain proper muscle function
Helps in tissue formation and heart function
Healthy hair, skin and nails
Ingredients
1 Teaspoon of powder (4g) contains: Calcium 613mg, Magnesium 232mg, Zinc 1.5mg
Shipping & Returns