Patience Fruit & Co. Exotic Journey
Organic Artisan Blend
130 g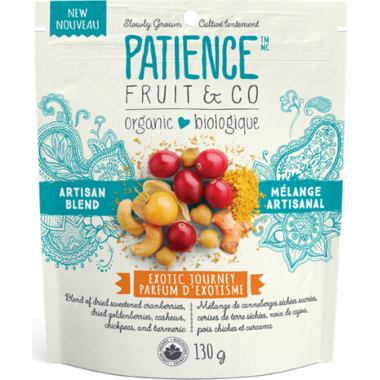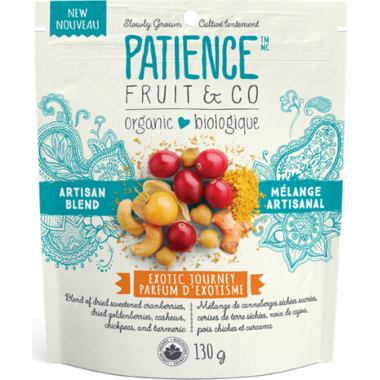 Patience Fruit & Co. Exotic Journey
Organic Artisan Blend
130 g
Exotic Journey. Smooth and aromatic. For the curious, those who love the exotic and discovering new flavours, this mixture will take you a thousand miles away in the time it takes for an aperitif or a supper. This unique blend of dried cranberries, dried golden berries, cashews, chickpeas and turmeric is a delicious invitation to visit exotic shores. This sweet snack with enchanting scents also offers a unique texture where soft cranberries contrasts with crunchy chickpeas and cashews.

Exquisitely good for you. Polyphenols, known for their antioxidant properties, are found naturally in the berries and cranberry powder used in this blend. Exotic Journey contains 50mg per 30g serving.

Ingredients: Dried cranberries (cranberries, sugar, sunflower oil), roasted chickpeas (chickpeas, sunflower oil), cashews, dried goldenberries, cranberry powder, spices.

Contains cashews. May contain traces of other tree nuts.