Patience Fruit & Co. Organic Active Blend Sea Salt & Pepper Snack Pack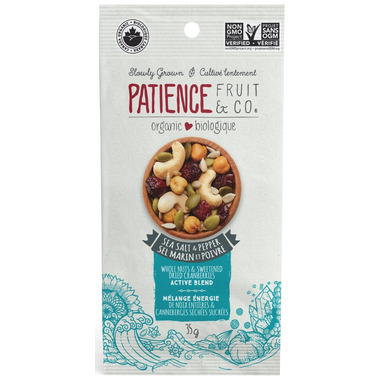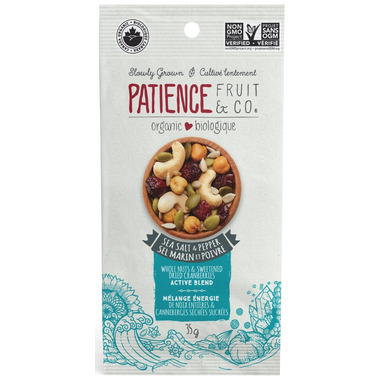 Patience Fruit & Co. Organic Active Blend Sea Salt & Pepper Snack Pack
Patience is proud to present their new Active Blends! Three pleasing flavours made with whole nuts, grains, and dried cranberries, they're a super source of energy, giving you that boost it sometimes takes to get work and activities crossed off your list.
This blend of dried cranberries, cashews, pumpkin seeds, chickpeas, sunflower seeds, sea salt and pepper balances sweet and salty in a way everyone will love. A savvy touch of pepper brightens up your snack time.
Features:

Certified Organic, Kosher, Non-GMO Project Verified
Source of energy
Source of fiber
Gluten, additive, sulfite & trans fatty acids free
Low in sodium
Contains 115mg of polyphenols* per 50g portion
Contains 7g of protein per 50g portion
Ingredients: Organic ingredients: Dried cranberries (cranberries, sugar, sunflower oil), roasted whole nut cashews, roasted pumpkin kernels, roasted chickpeas, roasted sunflower kernels, sunflower oil, black pepper. Non-Organic ingredients: sea salt. Made in a facility that uses: Tree Nuts, Milk, Soy.