Peg Perego Folding Booster Chair Rialto Arancia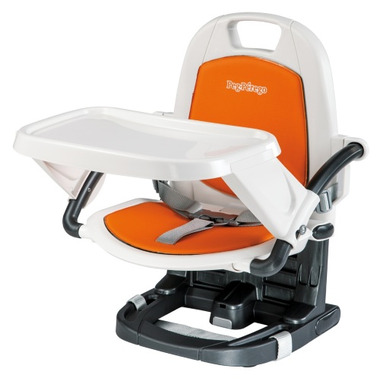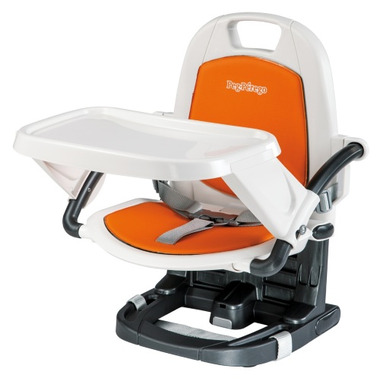 Peg Perego Folding Booster Chair Rialto Arancia
The Rialto is an innovative new booster seat designed to accompany the on-the-go family anywhere. With its compact fold, the Rialto is easily stored in the included carrying bag and offers a great alternative to the typical restaurant high chair. The booster chair weighs just over 6 pounds, allowing it to be transported with ease. Seat adjusts to 5 different height positions.
Safety and Security
A three-point safety harness secures the child to the Rialto, while holding straps can be used to secure the seat both behind and below the dining chair. Non-skid rubber pads where the booster touches the dining chair also aid in keeping the Rialto in place. With its five position height adjustment, the Rialto is suitable for children nine months and up.
Modern and Unique Design
The Rialto's unique and ergonomic design gives it a modern look, while allowing it to fold easily and compactly. It comes with a dishwasher-safe folding tray that can be easily removed. The booster chair is outfitted in Prima Classe material that is easy to clean and comes in three unique gender-neutral colours that are the perfect complement to any kitchen.
Features:
Compact fold: seat back and base fold easily to create a compact fold.
Adjustable Height: Can be adjusted to 5 different height positions.
Includes a carrying bag that allows the booster chair to be taken anywhere.
Safety Three-Point safety harness attaches to child and dual attachment straps connect behind and below dining seat.
Security: Non-skid rubber pads keep booster chair in place.
Easy to Clean: Durable upholstery can easily be removed and wiped clean with a damp cloth. Includes a removable dishwasher-safe folding tray.
Ergonomic design armrest is ergonomically designed for child's comfort.
Prima Classe Upholstery: Beautiful, buttery-soft upholstery is comfortable and easy to clean. Lightweight booster chair weighs just over six pounds, but is sturdy enough to hold up to 45 pounds in lowest height position.
All Peg Perego baby products are Made in Italy. From concept, to creation, every step in the process is performed by Peg Perego and no one else.
Model # IMRIASNA03PL38


We're sorry! This item does not qualify for free samples.
Joanna:
a few months ago
I purchased this chair for my 8 month old daughter and I'm so glad I did! I don't have to use dirty restaurant high chairs and the tray means that her food is on a clean surface. Assembly is easy and though it is a tad heavy it's worth it. We've used this chair in restaurants, food courts and in our home. My daughter loves that this chair allows her to sit upright unlike bucket chairs. I would strongly recommend this chair to everyone.
Page
1