Peg Perego Peg Perego Booklet Stroller Tulip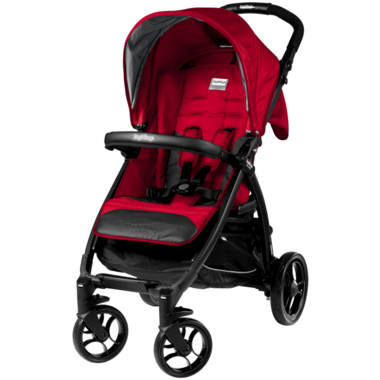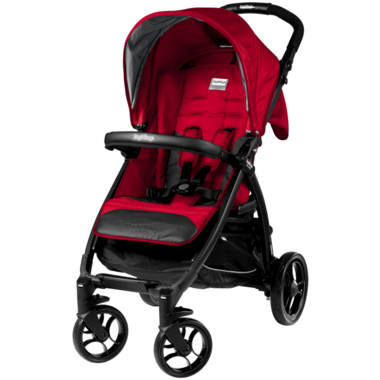 Peg Perego Peg Perego Booklet Stroller Tulip
Comfortable for baby and easy to handle, it's the perfect stroller for all outings. The Booklet provides effortless steering and mobility through narrow store aisles or crowded sidewalks. When it's time to be put away, the Booklet folds compactly and can be stowed almost anywhere.

Easy Close, Compact Fold

With the Booklet, folding a stroller has never been easier. It's lightweight frame and unique "book-like" folding mechanism allows parents to quickly and easily close the stroller.The Booklet folds inward, ensuring that the upholstery is always protected and clean. Once closed, it is compact and can stand on it's own. An automatic locking system is built into the chassis, which keeps the stroller closed. The narrow design of the Booklet ensures that a very small footprint of space is taken up once it is stored.
Streamlined Design, Easy Drive
The streamlined design of the Booklet allows it to be maneuvered with ease through heavy sidewalk traffic, narrow aisles and crowded elevators. The hood has an extendable UPF 50+ protecting visor, which helps shield little ones from the sun's UV rays. Wheels with ball bearings and suspension let the stroller be pushed effortlessly, while easily overcoming bumps and uneven surfaces. The frame is composed of lacquered aluminum, which is very solid and sturdy, yet lightweight to be easily maneuvered and carried.
Travel System Compatible
There is no need to worry about purchasing adapters with the Booklet. The stroller is travel system compatible with the Primo Viaggio 4-35 infant car seat. Simply recline the stroller backrest and place the car seat on the built-in, retractable anchors and the travel system is ready to go.
Travel System
Travel System-compatible with the Primo Viaggio 4-35 car seat. The car seat can be attached directly to the stroller's retractable anchors, without adapters.
Easy Close
Innovative design allows for quick and easy fold that closes inward, always keeping upholstery clean.
Easy Drive
Wheels with ball bearings and suspension allow for 360 degree agility and less effort in pushing.
Smooth Ride
Lockable front swivel wheels with independent "one-step" rear wheel brakes.
Recline
The backrest can be adjusted into a number of positions and it reclines fully to a flat position.
One-Piece Handle
Allows for easy push with just one hand.
Adjustable Handlebar
The handlebar can be modified to fit parent's height preferences.
Chassis
The chassis is made from lacquered aluminum -- a structure that is solid enough to control movement stability, yet lightweight to be easily maneuvered and carried.
Ventilation
Mesh is secured at the top of the backrest, ensuring perfect ventilation on the warmest days.
Bumper Bar
Front bumper bar hinges open for easy access to child. Outfitted in "Prima Classe" material.
Basket
Large, practical and easy-loading storage basket that holds all of the necessities.
Hood
The hood includes a mesh window, which is extendible and includes a sun shield with UV Protection of UPF 50+.

Fashion Forward
Upholstered with a variety of fashionable collections, in materials that will keep child comfortable.

Made in Italy
All Peg Perego baby products are Made in Italy. From concept, to creation, every step in the process is performed by Peg Perego and no one else.