Peg Perego Siesta High Chair Palette Grey
Model # IMSIESNA03BL73BL13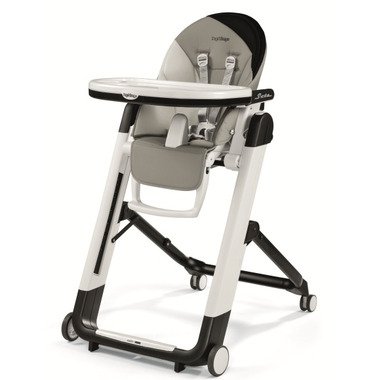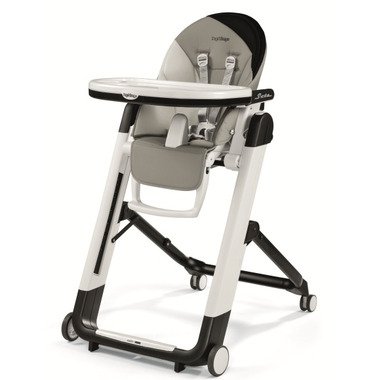 Peg Perego Siesta High Chair Palette Grey
Model # IMSIESNA03BL73BL13
This Peg Perego Siesta High Chair is a multifunctional, ultra-compact high chair that easily accommodates a child's growth. From birth, the Siesta can be used as a recliner or as a high chair for feeding, playing and resting. The removable tray and multiple height positions allow child to sit right at the table.
The Siesta follows a child from birth through the toddler years. The multi-functional high chair can be used as a comfortable recliner, perfect for keeping a young baby close. As the child grows, the five recline positions and nine height positions provide a perfect spot for relaxing, eating or playing. Dinner will truly be a family affair, as the Siesta's multiple height settings and removable tray allow child to sit at the dinner table.

Features:
Beautiful, buttery-soft upholstery is comfortable and easy to clean
Five reclining positions provide ultimate comfort and make it suitable for newborn, baby and toddler
Seat fully reclines and extends to provide maximum comfort for child
Nine different height positions
Three-position, adjustable footrest
Five-point safety harness and passive restraint bar
Mar-resistant caster wheels automatically lock for safety
Practical rubber storage net on seat back keeps bibs, utensils or toys within reach
Upholstery is stain resistant, durable, easy to remove and can be wiped clean with a damp cloth. Includes dishwasher-safe tray liner
Extremely compact, standalone fold: 11 5/6" x 34 2/3". Perfect for any size living space
Made in Italy
Model # IMSIESNA03BL73BL13
We're sorry! This item does not qualify for free samples.

Maeghan:
about a year ago
Love the colours on this one. I like that the fabric is cushiony, yet wipeable. Except my baby had a poop explosion which did stain the white part a bit. Collapses nice for convenient storage. The tray comes off and is dishwasher safe. I kind of wish all 4 wheels went in every direction instead of just the back 2 as it would make it easier to roll around.
Frank:
about a year ago
The only reason I am giving a 4 instead of a 5 is because the baby is not born yet so we haven't actually put the baby into the chair yet. But it seems extremely sturdy, nice features, great color, easy fold... a little heavy for me but a piece of cake for my husband..LOL.. I like the ability to move the chair up and down and lay the baby to sleep after a feeding if necessary.
Page
1