Pepcid AC Acid Controller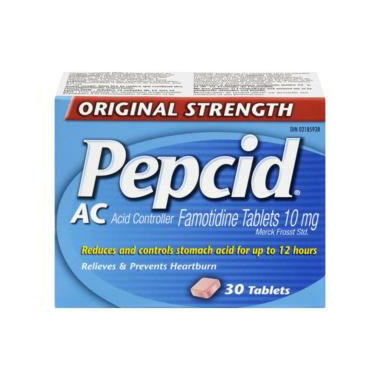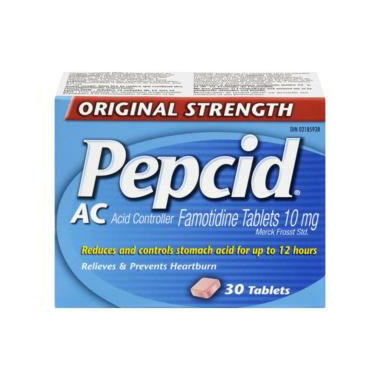 Pepcid AC Acid Controller
It's easy to relieve heartburn - and just as easy to keep it from happening.
PEPCID AC Acid Controller controls the production of excess stomach acid, preventing or relieving heartburn and acid indigestion brought on by eating and drinking certain foods and beverages.
You can take it before, during or after the start of heartburn to control acid for up to twelve hours.
Take control again with PEPCID AC®, available in an easy-to-swallow tablet.
Directions: Adults and children 12 years of age or older.
To relieve symptoms, take one tablet.
To prevent acid-related symptoms brought on by consuming food and/or beverage, take one tablet 10 to 15 minutes before eating.
If symptoms return, you may take another tablet.
Can be used up to twice daily (up to 2 tablets in 24 hours).
If symptoms continue for more than 14 days, talk to your doctor.
Warnings: This medicine may not be suitable for some people. Consult your doctor or pharmacist before using if you:
Are allergic to any component of this product or have had an allergic reaction to another product that contains an acid reducer.
Are pregnant or breast-feeding.
Have difficulty swallowing, or persistent abdominal discomfort (stomach pains).
Have severe kidney disease or any other severe illnesses.
Are over 40 and you are experiencing new or recently changed symptoms of acid indigestion or heartburn.
Are taking any prescription or over-the-counter medications, such as nonsteroidal anti-inflammatory drugs [NSAIDs] (because these medicines may be causing your symptoms).
Have a previous history of ulcer disease complications.
Are experiencing unintended weight loss in association with your symptoms of acid indigestion or heartburn.

Non-medicinal Ingredients:
hydroxypropyl cellulose, hypromellose, magnesium stearate, microcrystalline cellulose, red ferric oxide, starch, talc, titanium dioxide.