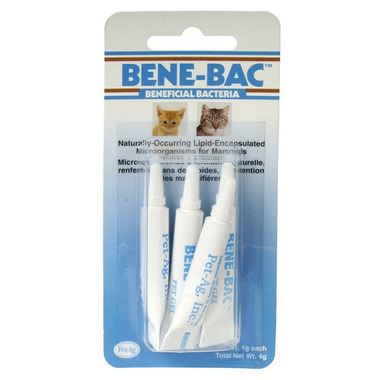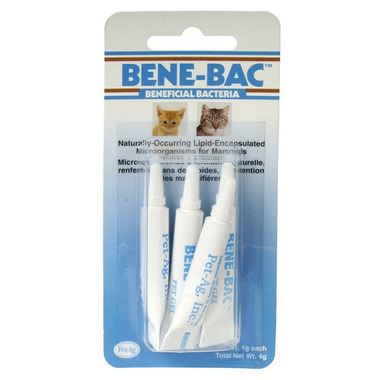 Contains live, naturally occurring microorganisms
A concentrated live culture of seven fat encapsulated, microorganisms found in the intestinal tracts of small animals.
Fat encapsulation insures the survival of the seven microorganisms through the stomach acids to the small intestine for maximum effect.
A guaranteed 20 million colony forming units (CFU) per gram of viable, lactic acid producing bacteria.
High energy - easily digested for instant energy: Dextrose for instant energy and Fat for sustainable energy.
Help for pets under adverse conditions such as:
- showing - grooming
- breeding - weaning
- traveling - boarding
- birth - surgery
- worming - antibiotic therapy
Directions: Newborns:
Feed 1/2 gram at birth; 1/2 gram on days 3, 5 and 7 and at weaning. For hand fed orphans increase to 1 gram on days 7, 14 and at the introduction of solid food.
Maintenance:
Feed 1 gram for each 10 lbs (4.5 kg) of body weight up to 50 lbs. For 50 lbs of body weight or over use 5 grams. These levels should be given 1 day prior and 1 day after marked nutritional or environmental changes. Place gel directly into mouth or on food.
Ingredients:
Dried Lactobacillus caseifermentation product, Dried L.fermentumfermentation product, Dried L. acidophilus fermentation product, Dried L. plantarumfermentation product, Dried Enterococcus faeciumfermentation product, Dried Bifidobacteriumbifidumfermentation product, DriedPediococcusacidilacticiifermentation product, Sunflower Oil, Sucrose, Silicon Dioxide, Dextrose, Artificial Color