Pharma Freak Creatine Freak
Hybrid Concentrated Creatine Pill
90 Caps
CREATINE FREAK is hands-down the strongest creatine pill available to date!
CREATINE FREAK's one of-a-kind formula contains clinically-proven dosages of Concentrated Creatine HCl and Beta-Alanine in addition to other organically altered performance-enhancing compounds.
Features:
Greater solubility, uptake and delivery of creatine to muscles!
Synergistic effects of Creatine HCl combined with Beta-Alanine
No bloating, no loading phase and no cycling-off required!

Why is CREATINE FREAK Better than Every Other Creatine Pill?
CREATINE FREAK is the only product on the market that combines Concentrated Creatine HCl (1500 mg) and Beta-Alanine (750 mg) in the precise 2:1 ratio for maximum performance and results!
CREATINE FREAK is the only creatine pill on the market that provides the mind-altering power of Geranium and Oleuropein Aglycone (OA) to enhance the mind-muscle connection for greater strength and cognitive function!
CREATINE FREAK is the only creatine pill on the market that uses AstraGin™ – the only absorption-enhancing agent clinically proven to enhance the absorption of amino acids, such as Creatine and Beta-Alanine.

Nutritional Information: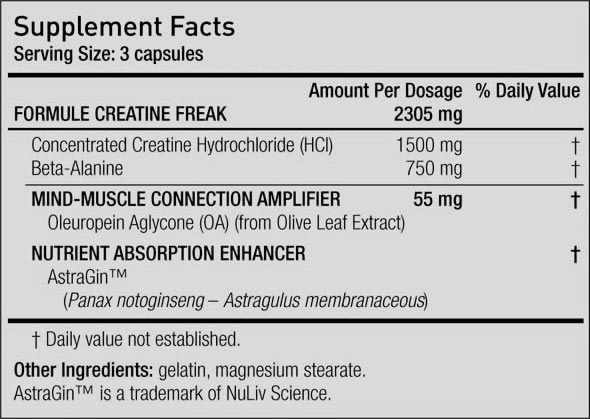 Other Ingredients:
gelatin, magnesium stearate.