Platinum Naturals Total Liver Care
Liver Support and Detoxification
60 Vegetarian Liquid Capsules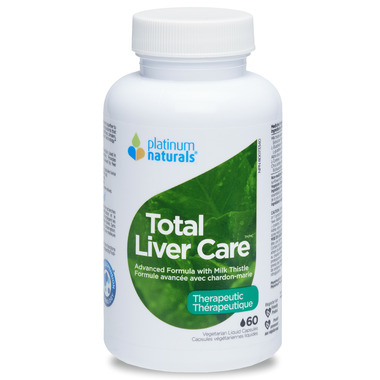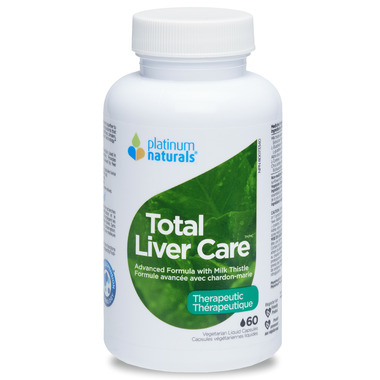 Platinum Naturals Total Liver Care
Liver Support and Detoxification
60 Vegetarian Liquid Capsules
Total Liver Care combines clinically studied, natural ingredients that support detoxification, energy production and healthy liver function. Containing powerful antioxidants, Total Liver Care protects liver tissue from toxins and free radical damage. Unlike tablet and liquid forms, Omega Suspension Technology (OST) ensures that key ingredients, such as milk thistle, glutathione and alpha lipoic acid, are absorbed.
Features:
Advanced formula to protect your liver and boost detoxification
Glutathione is a critical antioxidant that helps prevent damage to liver cells
N-Acetyl-L-Cysteine is a building block for Glutathione and helps reduce liver damage from medications
Alpha lipoic acid boosts Glutathione level
Milk thistle is a potent antioxidant that stimulates protein synthesis and protects liver cells from injury
Omega Suspension Technology (OST) provides better absorption and results you can feel
Recommended Dosage:
As an antioxidant for liver health: Take two (2) capsules daily.
As a liver protectant/detoxification: Take two (2) capsules twice daily for a minimum of 15 days. Take with food.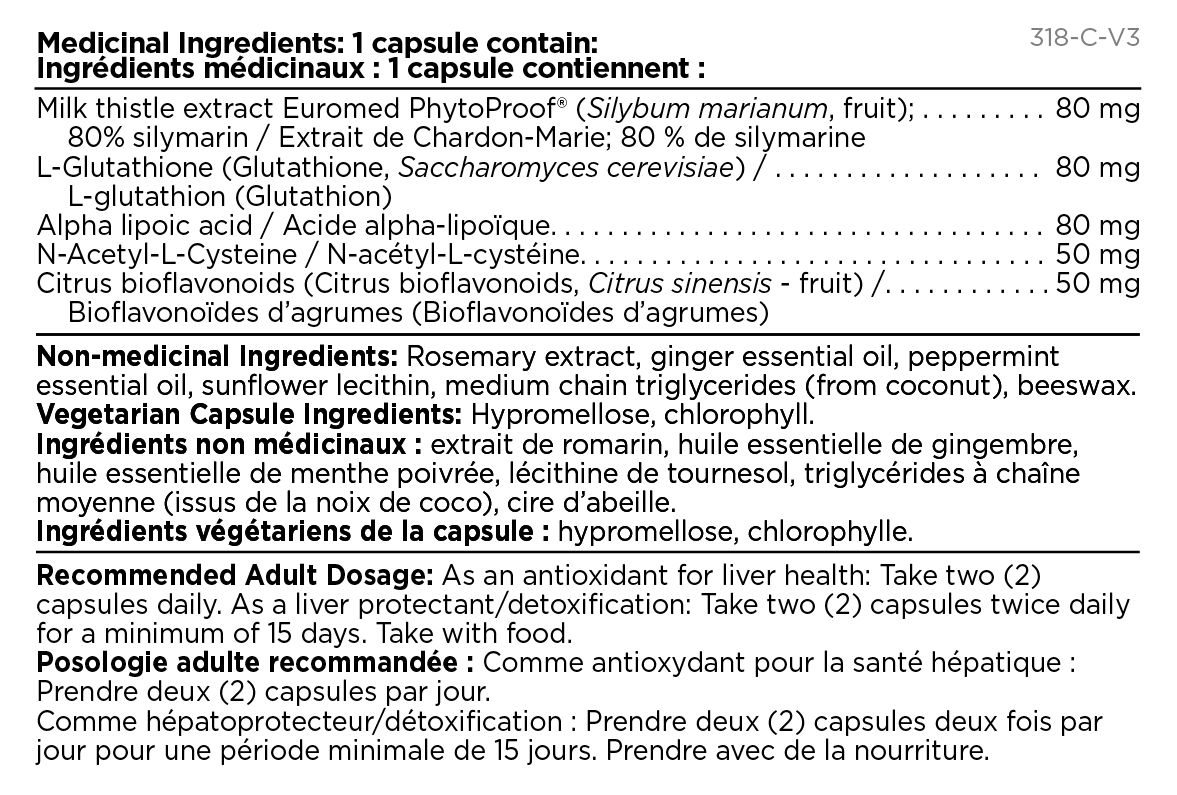 Medicinal Ingredients:
1 capsule contains: Milk thistle extract Euromed PhytoProof® (Silybum marianum, fruit); 80% silymarin 80 mg , L-Glutathione (Glutathione, Saccharomyces cerevisiae) 80 mg, Alpha lipoic acid 80 mg,
N-Acetyl-L-Cysteine 50 mg, Citrus bioflavonoids (Citrus bioflavonoids, Citrus sinensis - fruit) 50 mg
Non-Medicinal Ingredients:
Rosemary extract, ginger essential oil, peppermint essential oil, sunflower lecithin, medium chain triglycerides (from coconut), beeswax.

Vegetarian Capsule Ingredients
: Hypromellose, chlorophyll.
Caution
: Consult a health care practitioner prior to use if you are pregnant, breastfeeding, or if symptoms persist or worsen. Contains alpha lipoic acid, milk thistle: Do not use if you have diabetes, are taking medication to manage diabetes or are allergic to milk thistle. Contains N-Acetyl-L-Cysteine, citrus bioflavonoids: Consult a health care practitioner prior to use if you have kidney stones or use prescription medications (bioflavonoids may alter the effectiveness of some medications). Do not use this product if you are taking antibiotics or nitroglycerin.
Dairy Free, Soy Free, Halal, Vegetarian, Peanut Free, Natural, Gluten Free* *Products are manufactured without gluten but not tested.