PowerBar ProteinPlus 20g Bar Cookies n Cream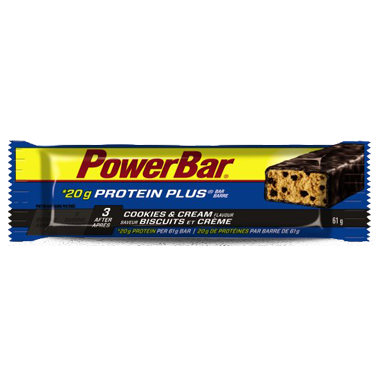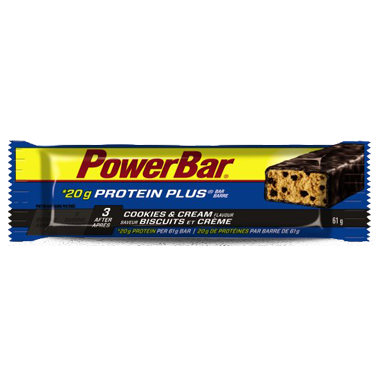 PowerBar ProteinPlus 20g Bar Cookies n Cream
After you've pushed yourself as hard as you can, you need the proper nutrients to help recover. PowerBar® ProteinPlus® bars are a great addition to your exercise regimen, especially after you've given it your all. Each bar is designed with 20 grams of TriSource™ protein: a proprietary blend of soy, casein, and whey proteins. And, there are no preservatives or artificial flavours.

Nutrition Facts:
Per 1 bar (61g)
Amount/Serving % DV*
Calories 210
Fat 5g 8%
Saturated + Trans 3g + 0g 15%
Cholesterol 5mg 2%
Sodium 120mg 5%
Carbohydrate 27g 9%
Fibre 4g 16%
Sugars 13g
Sugar alcohol 7g
Protein 20g
Vitamin A 0%
Vitamin C 0%
Calcium 8%
Iron 08%

Ingredients: PowerBar Trisource™ Protein Blend (Soy Protein Isolate, Calcium Caseinate, Whey Protein Isolate), Maltitol Syrup, cHOCOLATEY Coating (Sugar, Fractionated Palm Kernel Oil, COCOA POWDER, Whey Powder, Skim Milk Powder, Soy Lecithin, flavour), OLIGOFRUCTOSE, FRUCTOSE syrup, CANE SYRUP, COOKIE BITS (RICE FLOUR, SUGAR, canola oil, COCOA POWDER, RICE STARCH, BAKING SODA, SALT), CANOLA OIL, FlavourS, Soy Lecithin, Almond Butter, Peanut Flour. MAY CONTAIN WHEAT.