Prairie Naturals Organic HempProtein Dark Chocolate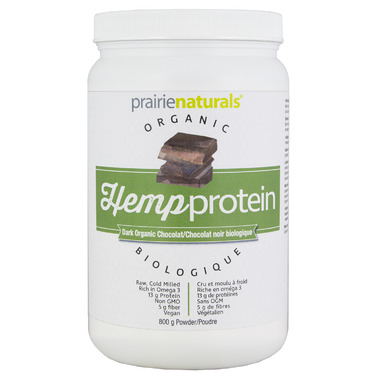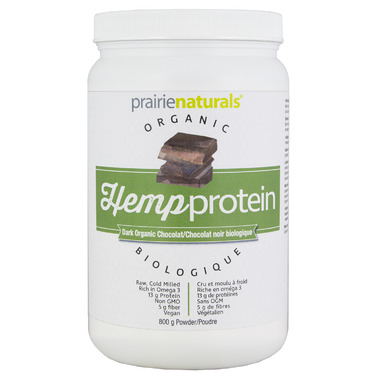 Prairie Naturals Organic HempProtein Dark Chocolate
Eat a more plant-based diet! Prairie Naturals HempProtein is more than a protein powder. It's a more balanced way of living and eating.
Hempseeds yield a high protein, nutrient dense food that nourishes us without depleting the soil or using vast amounts of water. This ecologically sound protein powder is completely green and 100% vegan. HempProtein delivers superior quality protein containing every one of the essential amino acids our bodies need. Naturally balanced omega fats in HempProtein reduce inflammation; strengthen hearts; promote resilient skin, flexible joints and enhanced immunity.
Made with pure, organic and raw, Canadian-grown Hemp Seeds.
Directions:
mix 2 scoops with liquid of your choice in blender or shaker cup. Drink immediately.

Ingredients:
Certified Organic, 50% Protein Content, Hexane-Free Hemp Protein Powder, Certified Organic Cocoa Powder, Certified Organic Dark Chocolate Flavour, Stevia Extract.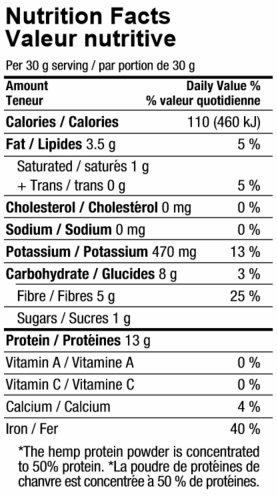 Organic, vegan, gluten free, sugar free, non-GMO, dairy free




Andrea:
about a year ago
i switched to this brand after using manitoba harvest for a few years. i find it to be superior in flavour and texture to many other vegan protein powders I have tried. i use it in smoothies and when i make energy balls. i have repurchased it many times and will continue to do so.
Page
1