Precision Supplements Casein-3X
Triple Chocolate Sundae
908 g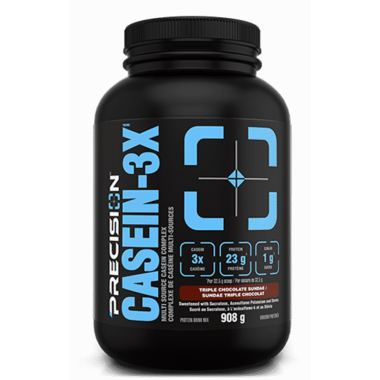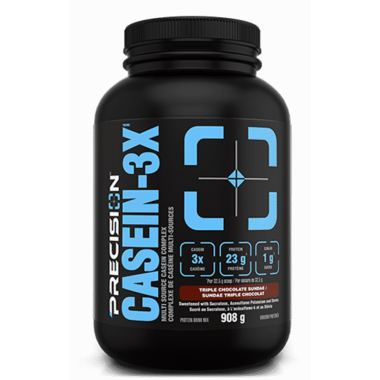 Precision Supplements Casein-3X
Triple Chocolate Sundae
908 g
Casein gives you all the essential amino acids you need + a high amount of leucine to shift your body's protein synthesis into high gear. And, you can keep it in high-gear for long. As a slow-digesting protein, casein works through the night to help reduce muscle breakdown.
Casein Complex:
Micellar Casein, Calcium Caseinate, and Milk Protein Isolate.

Ingredients:
Casein rich protein blend (Milk protein isolate, Micellar casein, Calcium caseinate), Cocoa, Xanthan gum, Natural and Artificial flavour, Sucralose (54 mg), Acesulfame Potassium (95 mg), Stevia extract.
Contains: Milk and Soy.
Suggested Use: For a delicious high protein shake mix 1 scoop (32.5 g) of Precision Casein-3X into 250 ml of water or milk.

Attention Athletes: Precision Casein™ is manufactured in a Health Canada Site Licensed facility that is completely free of banned substances, eliminating any concern of cross-contamination.