PreHeels Anti Blister Spray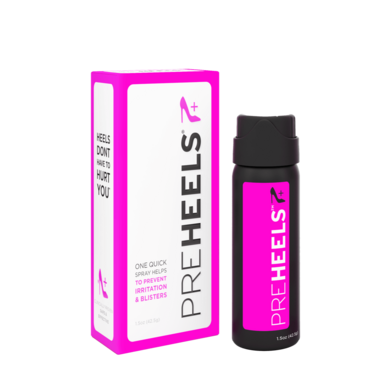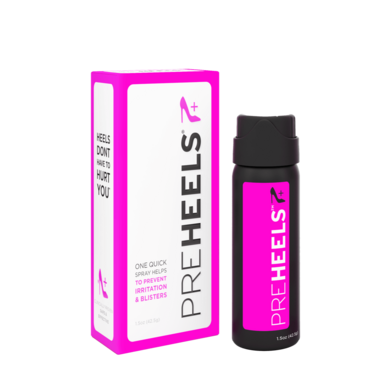 PreHeels Anti Blister Spray
PreHeels creates a strong, lasting, invisible barrier on the skin to protect your feet from irritation and blisters. Balms don't work. Bandages are ugly. In contrast, Preheels Anti Blister Spray's proprietary formula dries quickly into a totally clear barrier that goes with any style and skin tone. It conforms perfectly to the unique shape of your foot to provide optimal coverage anywhere you need it, and because it stays in place, it provides a full 6+ hours of long-lasting protection from blisters, irritation, cuts, hot spots and chafing.
Features:
Effectively prevents blisters
Invisible
Doesn't rub off on shoes
Works on any part of your foot
Easy application anywhere
Doesn't cause discomfort
All day and night protection
Directions for Use:
Spray on foot, especially problem area for blisters. Do not use on open blisters.
Ingredient Breakdown:
Dimethyl Ether: propellant that enables the formulation to be sprayed evenly in a mist. This is an organic compound and common aerosol propellant that does not harm the ozone.
Mixed Acetate Solvents: liquids designed to evaporate quickly to leave the protective barrier on your skin. All of these have been shown to be completely safe over decades of use in consumer nail polishes.
Acrylate copolymers: safe, plastic-like particles that sit on the skin and bond together once dry to form a barrier. These are also used in nail polishes and other common coatings.
Non-pthalate plasticizer: helps make the barrier flexible so that it can move and flex with your skin. This ingredient is even approved for use with food contact.
Siloxanes: allows the barrier to feel soft and smooth on your skin. This is a common smoothing agent used in deodorants, hair sprays & facial moisturizing creams.