Prim Botanicals The Debauchery Detox Silly Body Scrub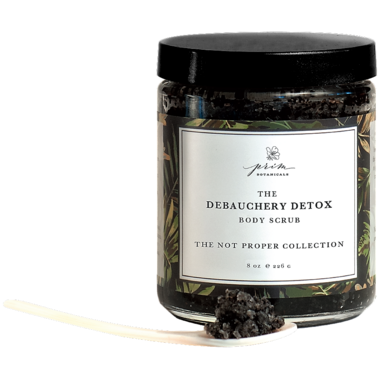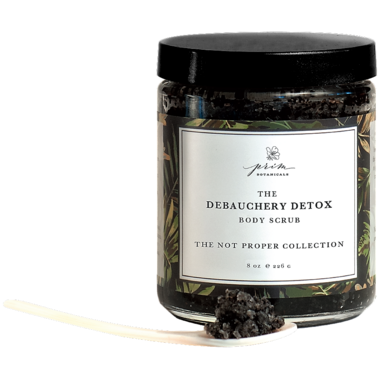 Prim Botanicals The Debauchery Detox Silly Body Scrub
So maybe you haven't been a perfect angel. You stayed out way too late, slept with your makeup on, thought salad but ordered pizza--again. Don't worry. The Debauchery Detox Body Scrub, with its mischievous mix of toxin-releasing ingredients like Hawaiian Black Lava Salt, Epsom Salt (helps replenish magnesium in the body. magnesium helps release seratonin), Activated Charcoal (helps tackle toxins), Philippine Barako Coffee (helps increase circulation and improve skin texture), and Eucalyptus was made with you (and all your naughty deeds) in mind.

To use: 1-2 times a week, massage a handful all over your body paying special attention to the areas that need most TLC. Let it do its magic for the time it takes to get through a belted rendition of whatever song is making you shimmy. Then rinse and come clean. Leave on sore muscles and the epsom salt does its magic. Very detoxifying! Organic philippine barako coffee and activated charcoal are amazing!

Scent Profile: Eucalyptus, lemon, vanilla, lavender, like a spa escape.

Ingredients: Ingredients: Sodium Chloride (Hiwa Kai Hawaiian Black Lava Salt), Magnesium Sulfate (Epsom Salt), Activated Charcoal from Coconut Shells, Coffea Liberica (Philippine Barako Coffee Grounds), Cocos Nucifera (Fractionated Coconut Oil), Corylus Avellana (Cold-Pressed Hazelnut Oil), Camellia Oleifera (Cold-Pressed Camellia Oil), Prunus Dulcis (Cold-Pressed Almond Oil), Carapa Guianensis (Cold-Pressed Andiroba Oil), Pentaclethra Macroloba (Wildcrafted Pracaxi Oil), Tocopherol (Vitamin E), Proprietary Blend of Essential Oils and Fruit Extracts

Mother of pearl spoon included. Featured in Vogue and In Style Magazines.