ProBar Meal Whole Food Bar
Superfruit Slam
CASE of 12 x 85 g
ProBar Meal Whole Food Bar
Superfruit Slam
CASE of 12 x 85 g
Super means tastes good and is good for you. ProBar collected the best fruits for this slam. You will be feeling SUPER after just one bite!
ProBar means it when they call it a meal. Each bar weighs in at a solid three ounces (85 g) of fruits, nuts and seeds with enough nutrition to make a fresh, tasty, satisfying meal replacement. They're rich in raw ingredients and the right nutrient-dense calories for lasting energy and nourishment.
Case pack of 12 bars.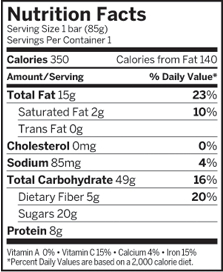 Omega 3:752 mg per bar. Omega 6: 2950 mg per bar.
Ingredients:
Organic Brown Rice Syrup, Organic Oats, Organic Dates, Organic Sunflower Seeds, Organic Cashew Butter (Organic Cashews, Organic Sunflower Oil), Cashews, Organic Raisins, Organic Flax Seeds, Almonds, Organic Evaporated Cane Juice, Organic Crisp Brown Rice, Strawberry Puree, Organic Expeller Pressed Canola Oil, Vegetable Glycerin, Apple Juice Infused Strawberries, Dried Pineapple, Dried Papaya, Organic Brown Rice Crisp (Organic Brown Rice, Organic Evaporated Cane Juice, Salt), Organic Rice Syrup, Superfruit Blend (Organic Acai Powder, Purple Corn Extract, Mangosteen Pericarp Powder, Camu Camu Powder), Organic Oat Flour, Organic Pumpkin Seeds, Organic Molasses, Citric Acid, Strawberry Flavour, Salt, Natural Flavour, Sunflower Oil, Organic Lime Juice, Rosemary Extract, Natural Tocopherols, Ascorbic Acid, Arabic Gum.
Contains:
Almonds, Cashews. Produced on equipment that processes peanuts, soy, wheat, and tree nuts.
All natural product
may contain pit pieces, nutshells, and other organic matter.