Progressive HCP70 100% Human Strain Probiotic
High Potency Probiotic
60 Vegetable Capsules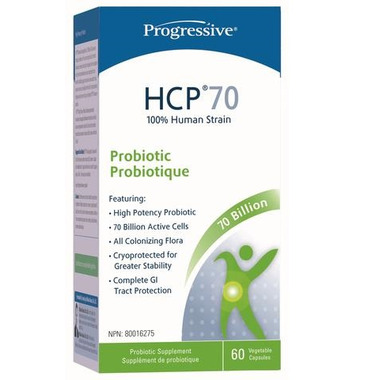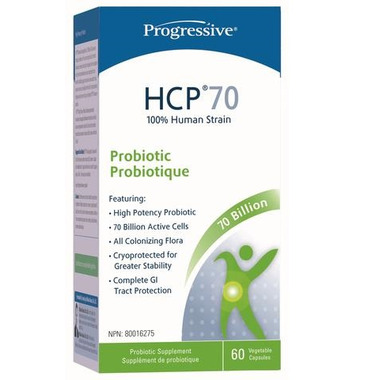 Progressive HCP70 100% Human Strain Probiotic
High Potency Probiotic
60 Vegetable Capsules
The healthy bacteria in your mouth and intestinal tract, known as probiotics, play a key role in your health. When their numbers are high, they support proper digestion, immune function, clear skin and the production of important vitamins. A full spectrum probiotic supplement helps to re-establish this balance for optimal overall health.
HCP70 (Human Colonizing Probiotic, 70 Billion Cells) is a High Potency Probiotic supplement featuring 6 human strains that implant healthy flora throughout the entire digestive tract. It has also been cryoprotected and a family of stabilizing support nutrients has been added to help ensure the viability of the flora.
Benefits:
Improves intestinal health
Supports immune function
Increases absorption of vitamins and minerals
Healthier skin through the reduction of acne, eczema and psoriasis
Prevention and treatment of vaginal and urinary tract infections
Reduced symptoms of Dysbiosis (imbalance between good and bad bacteria)
Reduced fatigue
Reduced Distention, bloating and flatulence
Reduced constipation and diarrhea
Improved digestion
Reduced Hypoglycemia
Reduced food allergies
Reduced lactose intolerance
Reduced Leaky Gut Syndrome
Features:
Complete GI tract protection
70 billion active cells
100% human strains
All colonizing flora
Cryoprotected for greater stability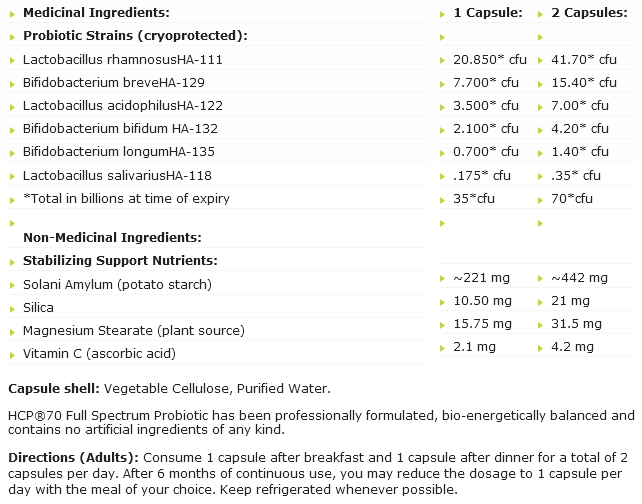 Please be advised that Well.ca follows manufacturer guidelines for storing & shipping probiotics.