Progressive Healthy Brain Bundle with OmegEssential & Perfect Probiotic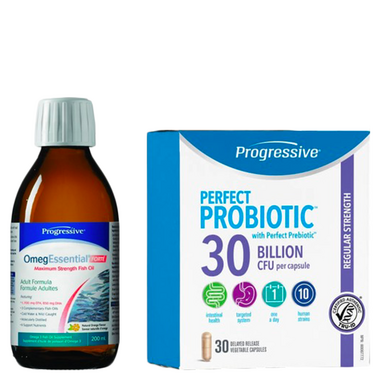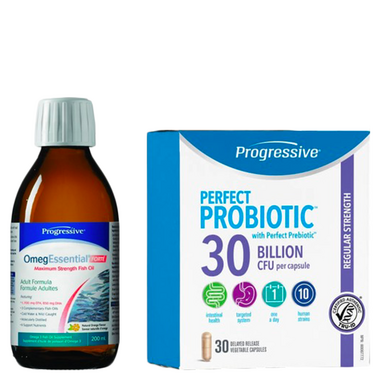 Progressive Healthy Brain Bundle with OmegEssential & Perfect Probiotic

The Progressive Healthy Brain Bundle includes:
Progressive OmegEssential FORTE Maximum Strength Fish Oil - 200 mL

Progressive Perfect Probiotic 30 Billion - 30 Caps
OmegEssential FORTE Maximum Strength Fish Oil Features:
1,700mg EPA, 850mg DHA
3 Complementary fish oils
Cold water and wild caught
Molecularly distilled
Unique family of support nutrients
100% all natural ingredients
A clean, pleasant taste
Gluten free
Benefits:
Supports cardiovascular health
Reduces serum triglycerides
Assists with healthy mood balance
Reduces inflammation
Eases the pain of Rheumatoid Arthritis
Improves focus, concentration and mental acuity
OmegEssential® FORTÉ Maximum Strength Fish Oil is designed to provide a more therapeutic dosage intended to address specific health challenges. This includes promoting healthy mood balance, supporting cardiovascular health, reducing serum triglycerides and easing the pain of Rheumatoid Arthritis.
Each serving provides 1,700mg of EPA and 850mg of DHA in a balanced 2:1 ratio. It also includes a family of support nutrients designed to naturally enhance your body's ability to process and utilize the essential fatty acids.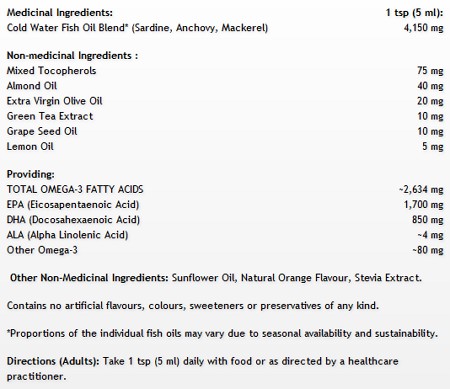 Progressive Perfect Probiotic 30 Billion Features:

Helps support intestinal/gastrointestinal health
Dosage: One serving daily.
Ingredients: (HA-132), (HA-129), (HA-116), (LAFTIB94), (HA-135), (HA-122), (HA-108), (LAFTIL26), (HA-188), (GG), (XOS), (GOS), (IMOS ), Hypromellose, Gellan Gum, Pectin, Cryobiotic Protection System (Skim Milk, Sucrose, Trypticase, Ascorbic Acid). Allergens: Contains milk and soy.
Caution: Consult a health care practitioner prior to use if you have fever, vomiting, bloddy diarrhea or severe abdominal pain. If symptoms of digestive upset occur, worsen, or persist beyond 3 days, discontinue use and consult a health care practitioner. Do not use if you have an immune-compromised condition.