Progressive MultiVitamins for Active Women Bonus Size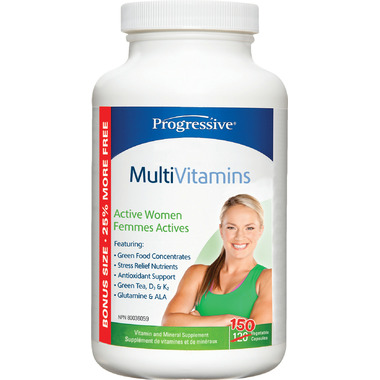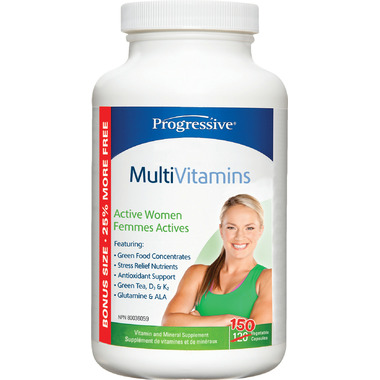 Progressive MultiVitamins for Active Women Bonus Size
Progressive MultiVitamins for Active Women is designed for women on the go. Whether you exercise, work long hours, raise a family or any combination of the above, your body needs the support of an Active MultiVitamin formula.
Features:
Combats stress and fatigue
Increases energy and stamina
Replaces lost electrolytes
Provides additional antioxidant support
Accelerates recovery following exercise
Protects your heart
Supports healthy thyroid function
Strengthens immune function
Helps with red blood cell formation
Promotes clear, healthy skin
Key Ingredients:
Green Food Concentrates
Stress Relief Nutrients
Antioxidant Support
Green Tea, D3 & K2
Glutamine & ALA

Non-Medicinal Ingredients:
Vegetable Cellulose (Hypromellose), Microcrystalline Cellulose, Magnesium Stearate (Vegetable).
Contains no added flavours, colours, sweeteners or preservatives of any kind.
Suggested Use (Adults):
Take 1 capsule with breakfast, lunch, and dinner for a total of 3 capsules per day.

Kathryn:
a few months ago
I originally started taking this multivitamin at my husband's urging - I balked a little at the price, since I've seen much more affordable multivitamins elsewhere (hello, Costco) but after trying a few different brands, I have to come back to this one. I feel so much better taking this multivitamin, and I think it has to do with the range of trace minerals available in it (which a lot of other multivitamins don't have - hello again, Costco). With the Progressive brand I have more energy, better mental clarity, and a more positive mood, which is really important for me as I'm very sick atm (SIBO-C, Pancreatic Enzyme Inefficiency, and Endo, just to name the big ones). This size & price on Well.ca is also one of the best prices I've found for this multivitamin. Will be purchasing this multivitamin from Well.ca again.
Ellah:
a few months ago
I started using this vitamin about 3 weeks ago and noticed that I do feel better after being fatigued/listless for weeks. I am niacin sensitive and try to avoid multi-vitamins which contain niacin (almost impossible as they almost ALL have included) however, this product does not give me a niacin flush whatsoever. Price is right and fast delivery. Will buy again!
Page
1