Progressive OmegEssential Jewels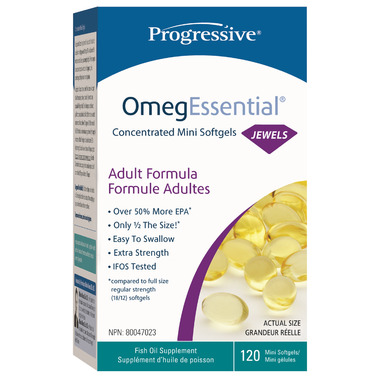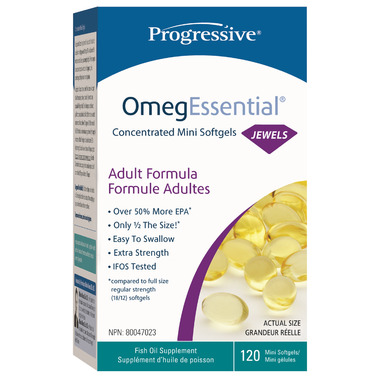 Progressive OmegEssential Jewels
Progressive OmegEssential Jewels may be small in size but don't let that fool you. Each mini softgel provides 315mg of EPA, which is over 50% more than most full size regular strength softgels. They're simple to take and easy to swallow without sacrificing potency. See, sometimes good things do come in small packages.
Each day's serving provides 1,260mg of EPA and 500mg of DHA. It also includes a family of support nutrients designed to naturally enhance your body's ability to process and utilize the essential fatty acids.
Benefits:
Helps support cognitive health and brain function
Supports cardiovascular health
Improves focus, concentration and mental acuity
Assists with healthy mood balance
Fights inflammation
Promotes healthy skin and hair
Medicinal Ingredients:
1 Softgel: 4 Softgels:
Cold Water Fish Oil Blend 630 mg 2,520 mg
(Sardine, Anchovy, Mackerel)
Providing:
EPA (Eicosapentaenoic Acid) 315 mg 1,260 mg
DHA (Docosahexaenoic Acid) 125 mg 500 mg
Non-medicinal Ingredients :
Mixed Tocopherols 10 mg 40 mg
Almond Oil 10 mg 40 mg
Extra Virgin Olive Oil 5 mg 20 mg
Green Tea Extract 2.5 mg 10 mg
Grape Seed Oil 1.25 mg 5 mg
Lemon Oil 1.25 mg 5 mg
Other Non-Medicinal Ingredients:
Gelatin, Glycerin, Purified Water.
Directions:
Suggested Use (Adults): Take 2 softgels with breakfast and 2 softgels with dinner for a total of 4 softgels per day.