Provita Astaxanthin Forte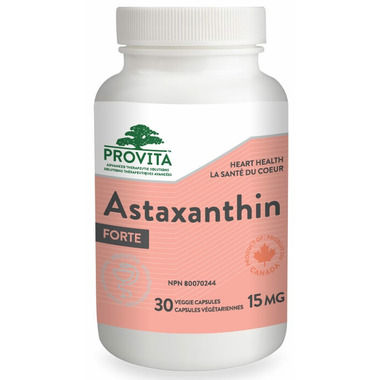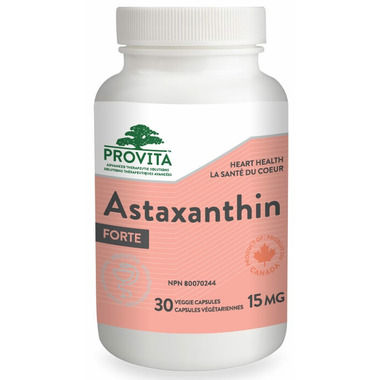 Provita Astaxanthin Forte
Antioxidant and cellular protector. Can be used in herbal medicine to help maintain and/or support cardiovascular health in adults.

Touted as one of the most powerful anti-oxidants available, Astaxanthin provides protection against oxidative cell damage and inflammation caused by free radicals. Damage caused by free radicals leads to cellular inflammation that affects the entire cell including its DNA.

It has now been established that inflammation – in part caused by free radicals-is at the root of all diseases. A 2007 study analyzed several popular antioxidants and their antioxidant power. This study found Astaxanthin to be 6,000 times stronger than Vitamin C, 800 times stronger than CoQ10, 550 times stronger than Green tea Catechins and 75 times stronger than Alpha Lipoic Acid. Provita's Astaxanthin Forte boasts the maximum daily dosage allowed by Health Canada. A high dosage of Astaxanthin may help relieve pain and inflammation, fight fatigue, support cardiovascular health and most importantly aid in cellular protection.

Provita Nutrition & Health Astaxanthin Forte is a recommended daily supplement for adults exposed to free radicals in the workplace or those who commute through daily heavy traffic. Also, adults under a high level of stress require an increased level of antioxidants, in order to protect both the brain and central nervous system from free radicals and oxidative stress. When associated with Provita Nutrition & Health Lutein Pro, it can positively affect vision health. Astaxanthin can be associated sinergistically with Provita Nutrition & Health Microhydrinase Pro for an enhanced antioxidant effect throughout the body.

Dosage: Adults take 1 capsule per day or as directed by a healthcare practitioner.

Active Ingredients:
Each Capsule Contains:
Astaxanthin (Haematococcus pluvialis)……………………………15 mg

Non-Active Ingredients: Microcrystalline cellulose, Magnesium stearate (vegetarian), hypromellose.

Does not Contain: Dairy, egg, gluten, soy, wheat, corn, yeast, nuts, artificial sweeteners, colours or flavours.

Caution: Consult your healthcare practitioner prior to use if you are pregnant or breastfeeding. As with any natural health product, you should consult a healthcare practitioner on the use of this product. Do not use if seal is broken. Keep out of reach of children. Keep sealed, store in a cool, dry place at 15–25ºC.