Provita Digestive Enzymes Complex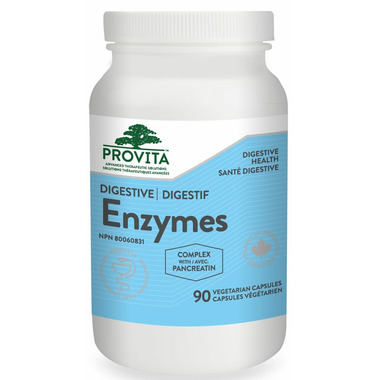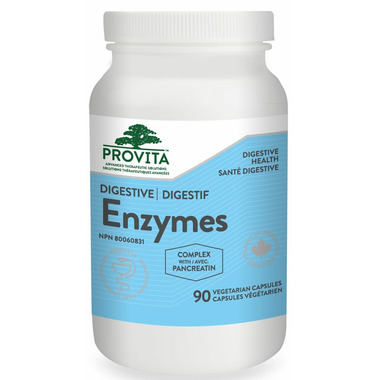 Provita Digestive Enzymes Complex
- We're sorry, this product is no longer available!
- Shop for other products in: Digestive Enzymes

For relief of digestive spasms, indigestion and flatulence. One of the complete and most complex formulation specifically designed for good digestion and for maintaining stomach health.

A complete digestive formula combining pancreatic enzymes, Betaine HCL, Papain, Bromelain, Ginger, Peppermint and Black Pepper. One of the complete and most complex formulation specifically designed for good digestion and for maintaining stomach health.

Ingredients and their functions at a glance:
Betaine Hyrochloride provides hydrochloric acid to dissolve the ingested food and prepare it for digestion.
Pancreatic enzymes provides protease, amylase, and lipase to help digest protein, carbohydrates and fat.
Bromelain and Papain proteolytic enzymes to further help breaking down proteins.
Cellulase and Hemicellulase enzymes to help digest plant fiber and to break down fruits, veggies & grains.
Ginger to help relieve digestive upset/disturbances including lack of appetite, nausea, digestive spasms, indigestion, dyspepsia and flatulent colic (carminative).
Lactase helps to digest lactose in milk and diary products.
Black pepper and Peppermint to aid and improve overall digestion.

Since so much of our food is processed or cooked, it is highly recommended to supplement regularly with high quality digestive enzymes to avoid malabsorption of nutrients, the main cause of fatigue, allergic reactions and skin problems.

Active Ingredients:
Each Capsule Contains:
Betaine HCL…………………………………………………………..250 mg
Papain……………………………………………………………100,000 FCC PU
Bromelain (stem)……………………………………………600,000 FCC PU
Pancreatin (pancreatic enzymes)……………………………….50 mg
Protease…………………………5000 USP
Triacylglycerol lipase………..400 USP
Alpha-amylase……………….5000 USP
Zingiber officinale (root) 10:1 PE……………………………..20 mg
Mentha piperita………………………………………………………10 mg
Cellulase……………………………………………………………..400 FCC CU
Hemicellulase……………………………………………………..250 FCC HU
Piper Nigrum…………………………………………………………….5 mg
Pepsin A…………………………………………………………60,000 FCC pepsin units
Lactase (beta-Galactosidase)……………………………250 FCC acid lactase units

Non-Active Ingredients: Microcrystalline Cellulose, Hypromellose (vegetarian capsule shell)

Does not Contain: Dairy, egg, gluten, soy, wheat, corn, yeast, nuts, artificial sweeteners, colours or flavours.

Dosage: Adults take 1 capsule 3 times per day with food / meal.

Caution: Consult a healthcare practitioner prior use if you have a gastrointestinal lesion/ulcer, you are taking an anticoagulant/ blood thinner, other enzyme products or an anti-inflammatory, you have diabetes or kidney problems, you have gal stones, suffer from another serious illness such as pancreatitis, pancreas exocrine insufficiency, cystic fibrosis or you are having surgery, you have allergy to latex or fruits (such as avocado, banana, chestnut, passion fruit, fig, melon, mango, kiwi, pineapple, peach, and tomato), or if symptoms persist or worsen. Do not use if you are pregnant or breastfeeding, after recent surgery, if you are sensitive to pancreatic enzymes or pork proteins. Hypersensitivity/allergy, nausea, vomiting, diarrhea, abdominal pain / epigastric pain and/or heartburn have been known to occur, in which case discontinue use and consult a health care practitioner. For prolonged use, consult a health care practitioner. Do not use if seal is broken. Keep out of reach of children. Keep sealed, store in a cool, dry place at 15–25ºC.