Pure Beauty Organics Deep Cleansing Facial Mask
Oily & Problematic Skin Types
Made by Belly Buttons & Babies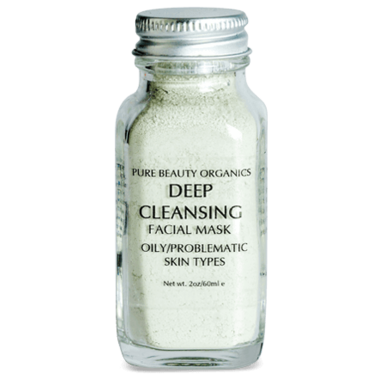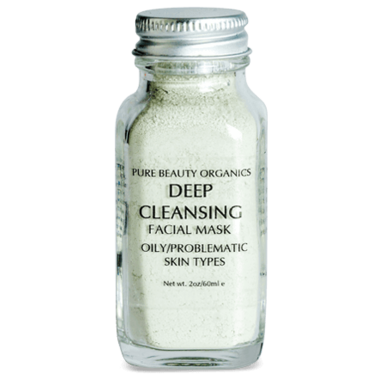 Pure Beauty Organics Deep Cleansing Facial Mask
Oily & Problematic Skin Types
Made by Belly Buttons & Babies
A deep cleansing, pore decongesting, ideal for troubled skin, beneficial for oily, problematic skin. Aids in drawing out impurities, minimizes the appearance of blackheads and pores, absorbs excess oil leaving skin brighter, clear and clean. Not suitable for sensitive skin.
Each bottle arrives with a ceramic mixing dish, application brush and will yield approximately 60 uses. For external use only.

Benefits:
French Green Clay absorbs and removes impurities from the skin, stimulating blood flow to create healthy and glowing skin. When prepared as a mask, the clay dries on the skin causing pores to tighten and the skin to feel firm, toned and refreshed.

Directions:
Dispense a quarter-sized amount into wet hands, or mix with your favorite cleanser.
Mix together to activate the powder and create a creamy paste.
Massage into skin using circular motions, avoiding the eye area.
Rinse thoroughly and gently pat dry to reveal skin that is completely cleansed, fresh, and renewed.
Key Ingredients:
Green Tea
- a rich source of anti-oxidants such as Vitamin C and E. Green Tea Extract helps repair the effects of aging and environmental factors and is a potent anti-oxidant. If your skin is often red, Green Tea Extract may help soothe it.
Yogurt Powder
- Tightens pores, soothes an rejuvenates the skin.
Ingredients:
Rice Powder (Oryza Satvia), Kaolin Clay, Green Tea (Camellia Sinensis) Powder, Yogurt Powder (Yogurt Powder), Kaolin and Illite (French Green Clay), White Willow Bark (Salix Alba) Powder Extract.