qilib Hair Thickening Lotion For Men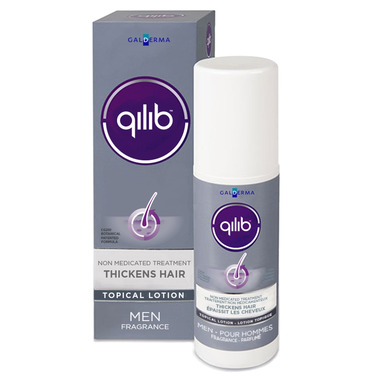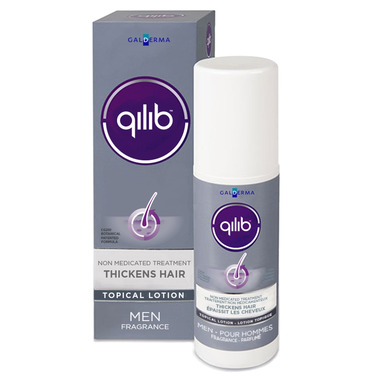 qilib Hair Thickening Lotion For Men
For men noticing signs of hair thinning, qilib is a non-medicated hair thickening lotion that is a proven solution to improve the appearance of his hair. Qilib contains a unique patented mix of ingredients that nourish the scalp while fortifying the hair making it stronger. When regularly used, it thickens the appearance of hair after 44 days. The unique formulations give you the confidence of fuller, thicker and healthier looking hair.
Features:
Revitalizes the hair by making it look thicker and fuller
Botanical Formula
Clinically proven to thicken the appearance of hair in 44 days
Non-greasy, no preservatives
Application:
1. Shake the bottle and if you have long or thick hair insert the applicator provided onto the bottle to ensure lotion is applied directly to the scalp.
2. Use a comb or fingers to part the hair to expose the scalp and apply 5-10 sprays, 2 times per day (morning and evening), on entire scalp (wet or dry).
3. Massage the lotion into your scalp. Do not wash away immediately afterwards. You can shower and wash your hair 30 minutes after application.

Ingredients:
Aqua / Water, Allium Cepa (Onion) Bulb Extract, Alcohol, Citrus Limon Fruit Extract, Betaine, Glycerin, Sodium Chloride, Parfum / Fragrance, Theobroma Cacao (Cocoa) Seed Extract, Paullinia Cupana Seed Extract, Maltodextrin, Silica
Caution:
Some users see results within a few weeks but you should use qilib™ for at least 3 months to achieve optimum results. In order to maintain results, you should continue to use qilib™ as part of your daily routine. There is no limit to the length of time you can use qilib™. Store at room temperature (15–30°C). For external use only. Avoid contact with eyes. Do not swallow. Keep out of reach of children. Do not use if you have been with diagnosed with hypersensitivity to the ingredients. In the very rare event of a scalp reaction, please contact your dermatologist for advice.