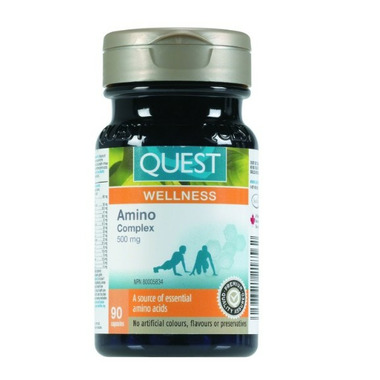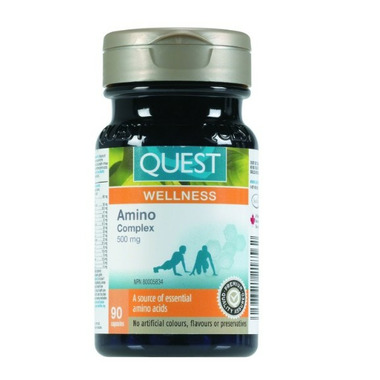 - We're sorry, this product is no longer available!
- Shop for other products in: Amino Acids

Quest Amino Complex is a superior formula of amino acids, providing both essential and non-essential amino acids in a highly bioavailable form. Amino acids are the building blocks of protein, and protein is essential for growth, maintenance, and repair of all body tissues, and they are vital to the formation of hormones, enzymes, and antibodies. This supplement is ideal for athletes and others who require preformed amino acids to support healthy tissue growth and repair.
Each capsule of Quest Amino Complex contains 500 mg of hydrolyzed casein amino acid, including all eight essential amino acids and ten non-essential amino acids.
Supplement Facts (per 1 capsule):
Hydrolyzed Caesin (cow milk) - 500 mg
Providing: L-glutamic acid - 100 mg
L-proline - 50.5 mg
L-leucine - 41 mg
L-lysine - 36.5 mg
L-valine - 32 mg
L-aspartic acid - 31.5 mg
L-serine - 28 mg
L-tyrosine - 28 mg
L-isoleucine - 27 mg
L-phenylalanine - 22 mg
L-threonine - 21.5 mg
L-arginine - 18 mg
L-histidine - 13.5 mg
L-alanine - 13 mg
L-methionine - 12.5 mg
Glycine - 12 mg
L-cystine - 1.5 mg

Non-Medical Ingredients: magnesium stearate, gelatin.

This product does not contain corn, egg, gluten, shellfish, soy, sulfites or wheat.
Dosage: 500 mg