Rawcology Smoky Cheeze Superfood Coconut Chips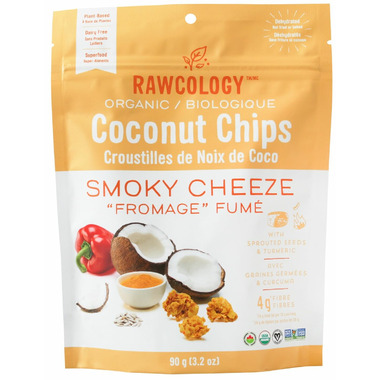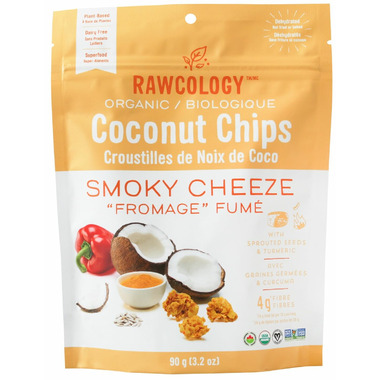 Rawcology Smoky Cheeze Superfood Coconut Chips
Smoky Cheeze Coconut Chips that are dairy free? It's possible! This flavour features a combination of turmeric, nutritional yeast, spices, natural hickory smoke and activated sunflower seeds that have been soaked for 10 hours to increase digestibility and absorption of nutrients and protein.
You can also feel good about superfood turmeric, which is a natural anti-inflammatory that has antioxidant and anti-bacterial properties. All of our snacks are dehydrated at a low temperature to promote optimal nutrition and flavour.
Features:
Organic
Vegan
Raw
Paleo
Peanut Free
Tree Nut Free
Gluten Free
Dairy Free
Soy Free
Sugar Free
Non-GMO
Trans Fat Free
Cholesterol Free
School Approved Snack
Locally made in Canada
Ingredients:
Organic coconut flakes, organic activated sunflower seeds, nutritional yeast, organic red bell pepper, organic spices, organic coconut aminos/soy-free seasoning sauce, natural hickory smoke, organic apple cider vinegar, pink Himalayan salt.
Allergen free.