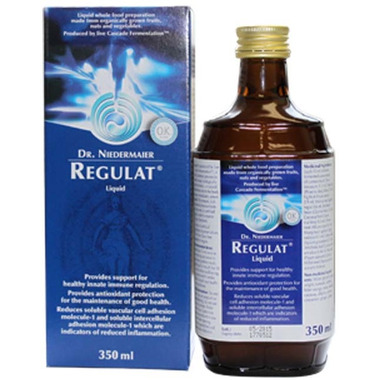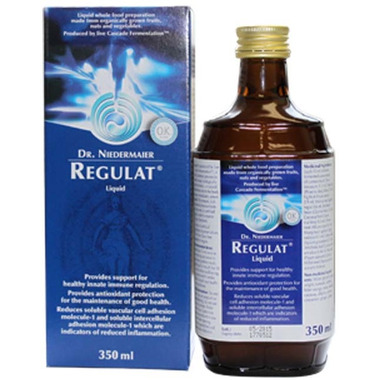 Regulat positively affects many areas of the body and bodily systems, including skin, joints, blood, metabolism, digestion, as well as energy and sluggishness problems. Regulat contains essential phytonutrients and probiotic substances. Regulat gives the immune system an extra boost, and promotes a healthy blood environment.

Ingredients: Medicinal Ingredients: (each 10 ml contains fermented concentrated of) Lemon fruit* (Citrus limonum)1.1 ml Date fruit* (Phoenix dactylifera)0.9 ml Fig fruit* (Ficus carica).0.9 ml Walnut nut* (Juglans regia)0.6 ml Soybean bean* (Glycine max)0.3 ml Coconut fruit* (Cocos nucifera)0.3 ml Onion root* (Allium cepa).0.3 ml Mung-bean sprout* (Vigna radiata)0.1 ml Celery stalk* (Apium gravelolens).0.1 ml Artichoke leaf* (Cynara cardunculus).0.06 ml Pea seed* (Pisum sativum) 0.04 ml Millet seed* (Panicum miliaceum) 0.04 ml
Non-medicinal Ingredients: Water, glycerin (plant origin), turmeric*, saffron*, bitter orange*, anise*, fennel*, caraway*, allspice*, cloves*, cinnamon*, ginger*, cubeb*. (* Organic ingredients. Organic inspection body DE-oo6.)

Please be advised that Well.ca follows manufacturer guidelines for storing & shipping probiotics.