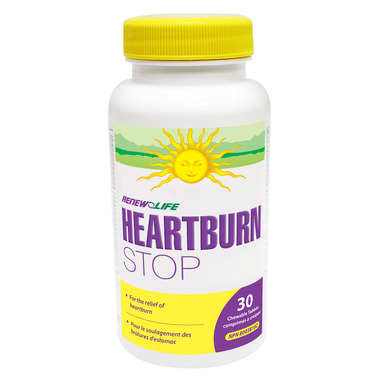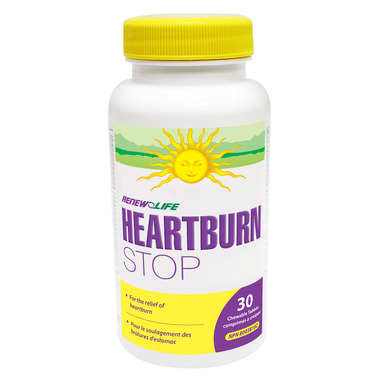 - We're sorry, this product is no longer available!
- Shop for other products in: Tablets & Powders

Renew Life HeartburnSTOP works to reduce gastric secretions in the stomach
and neutralize existing acid. At the same time, it works to protect and
heal the tissues in the stomach and esophagus.

Suggested Use: Adults: Chew one tablet at onset of upper digestive upset
(heartburn). Do not exceed 5 tablets daily. Do not take continuously.

Ingredients: Each tablet contains:
Calcium Carbonate 295mg
Magnesium Carbonate 225mg
Fava Bean (Vicia faba) 200mg
Raspberry Fruit (Rubus idaeus) 200mg
Magnesium Hydroxide 140mg
Pomegranate Fruit Extract (Punica granatum)
40% Ellagic Acid 65mg
Aloe Vera Leaf Gel (Aloe barbadensis) 50mg
Papaya Fruit (Carica papaya) 25mg
Apple Pectin (Malus sylvestris fruit) 20mg
Sodium Bicarbonate 20mg
Gastric Mucin 5mg

Non-medicinal Ingredients: Fructose, stearic acid (vegetable source), natural raspberry flavour, magnesium stearate, silicon dioxide (mineral source)

Contains No: Nuts, peanuts, sesame seeds, mustard seeds, wheat, gluten, yeast, corn, egg, dairy, soy, crustaceans, shellfish, fish, artificial colour or preservatives.

Renew Life does not use genetically modified ingredients. All ingredients are NON-GMO/GMO-FREE.

Warning: Consult a health care practitioner prior to use if you have a kidney disease, kidney disorder, or are taking heart medication. Reduce dose or discontinue use if abdominal cramps, spasms and/or pain occur. Do not
use if you have abdominal pain, nausea, fever, vomiting, hemorrhoids, if you have a chronic gastrointestinal disorder, or if you are taking thiazide diuretics, corticosteroids, licorice root, or other drugs that may aggravate electrolyte
imbalance. Do not take within two hours of another medicine. Consult a health care practitioner if symptoms (heartburn) do not subside or are continuous. Hypersensitivity such as allergy, skin rash, has been known to occur; in which case discontinue use. Do not use if pregnant, breastfeeding, or after recent
surgery. Do not exceed recommended dose. Keep out of reach of children.
No refrigeration required. Store in a cool, dry place.