Rexall Maximum Strength Acid Reducer without Prescription
150 mg Ranitidine Tablets
50 Tablets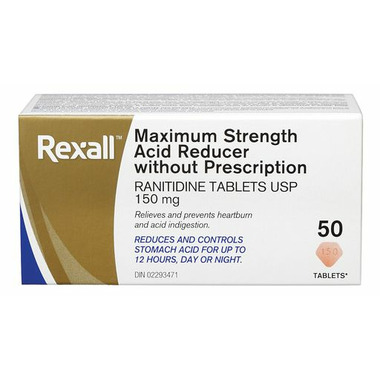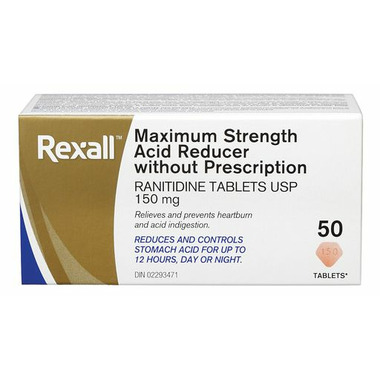 Rexall Maximum Strength Acid Reducer without Prescription
150 mg Ranitidine Tablets
50 Tablets
The Rexall Maximum Strength Acid Reducer without Prescription reduces and controls stomach acid for up to 12 hours, day or night, which relieves and prevents heartburn and indigestion.

Made in accordance with the quality standards of the United States Pharmacopeia (USP)

Ingredients: Rantidine Hydrochlride 150mg, Colloidal Silicon Dioxide, Croscarmellose Sodium, Iron Oxide Red, Magnesium Stearate, Microcrystalline Cellulose, Polyvinyl Alcohol, Soy Lecithin, Talc, Titanium Dioxide, Xanthan Gum, Yellow Iron Oxide

Dosage: Adults and Children 16 years of age or older: For relief: take one tablet as needed. If symptoms persist or return after 1 hour, take another tablet. Do not take more than 2 tablets during a 24 hour period. If symptoms persist for more than 2 consecutive weeks consult a doctor. For Prevention of symptopms brought on by consuming food and beverages, take one tablet 30 to 60 minutes before eating a meal you expect to cause symptoms. Please read enclosed insert before taking MAXIMUM STRENGTH ACID REDUCER WITHOUT PRESCRIPTION 150mg.