Rockin' Green Liquid Laundry Detergent
Lavender Mint
60 oz/80 Loads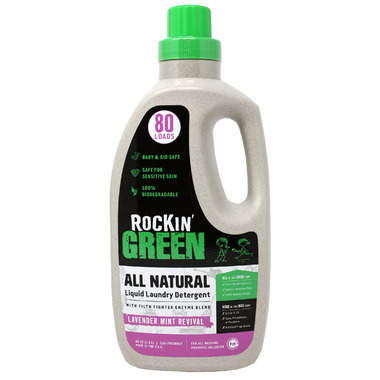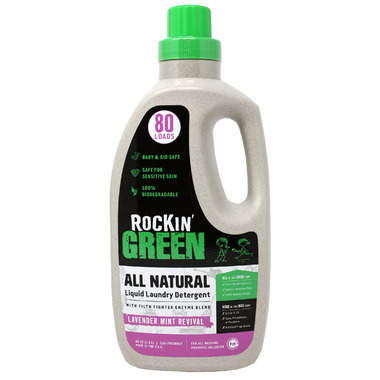 Rockin' Green Liquid Laundry Detergent
Lavender Mint
60 oz/80 Loads
Rockin' Green All Natural Liquid Laundry Detergent contains no harmful additives or unnecessary fillers: only natural, earth friendly ingredients. This is a sensitive skin safe product that is highly effective no matter what laundry landmines you might encounter. All of these plant derived ingredients were selected for their low environmental impact, and because optical brighteners or other hard chemicals are not used you don't need to worry about caustic residues being left behind to potentially irritate your skin. This detergent does not contain any SLS or SLES, parabens, sulphates, phosphates, dyes, or synthetic fragrances. This is a highly concentrated formula so all you need is 3/4ths of an ounce per load, giving you up to 80 loads per bottle. The powerful enzyme blend helps you remove stains naturally and efficiently, so you waste less water and time during your process.
Features:
Plant Derived Ingredients with natural enzyme cleaning power
Highly concentrated, HE Compliant, 100% biodegradable
Only natural clean rinsing scents
No SLS or SLES, Parabens, phosphates or phyto chemicals
No common allergens (corn, gluten, soy or nut)
No harmful preservatives, dyes or fillers
Safe for all laundry times, including cloth diapers and great for hard water Cruelty free, vegan
Low cost for for natural detergent at $0.26 cents per load



Laura:
about a year ago
Stick with the powder!
I have loved Rockin Greens powder laundry detergent for years. I was excited to see they had liquid detergent so I bought 2 jugs Lavender mint revival & one other scented one.
No pros here. The liquid is fairly runny like water. Not thicker like typical liquid detergents.
The smell......They smell musty straight from the containers. Both detergents I bought do-which surprised me as their powder detergents smell light and refreshing.
I have tried about 4 loads with each scent and they always come out of the wash with the musty scent of the liquid Rockin Green detergent. I have had to soak my clothes in vinegar to remove the bad smell.
At this point I will cut my losses and flush the liquid detergent down the toilet. I can't handle smelling my clothes the way these detergents smell.
Don't waste your money on these Rockin Green liquid detergents. The powdered ones however, are amazing.
Page
1