Rockin' Green Liquid Laundry Detergent
Smashing Watermelon
60 oz/80 Loads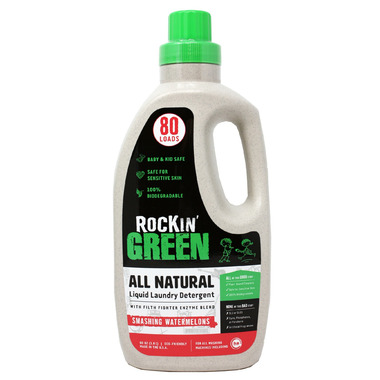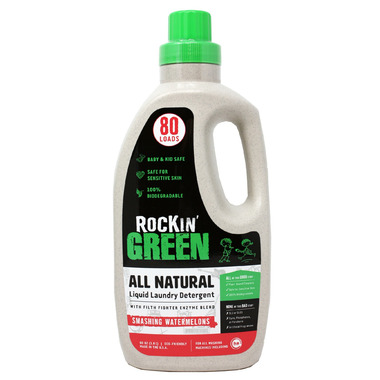 Rockin' Green Liquid Laundry Detergent
Smashing Watermelon
60 oz/80 Loads
Rockin' Green All Natural Liquid Laundry Detergent contains no harmful additives or unnecessary fillers: only natural, earth friendly ingredients. This is a sensitive skin safe product that is highly effective no matter what laundry landmines you might encounter. All of these plant derived ingredients were selected for their low environmental impact, and because optical brighteners or other hard chemicals are not used you don't need to worry about caustic residues being left behind to potentially irritate your skin. This detergent does not contain any SLS or SLES, parabens, sulphates, phosphates, dyes, or synthetic fragrances. This is a highly concentrated formula so all you need is 3/4ths of an ounce per load, giving you up to 80 loads per bottle. The powerful enzyme blend helps you remove stains naturally and efficiently, so you waste less water and time during your process.
Features:
Plant Derived Ingredients with natural enzyme cleaning power
Highly concentrated, HE Compliant, 100% biodegradable
Only natural clean rinsing scents
No SLS or SLES, Parabens, phosphates or phyto chemicals
No common allergens (corn, gluten, soy or nut)
No harmful preservatives, dyes or fillers
Safe for all laundry times, including cloth diapers and great for hard water Cruelty free, vegan
Low cost for for natural detergent at $0.26 cents per load



Katie:
a few months ago
I love this product for our clothe wash routine! I prefer the hard rock powder for cloth diapering because of our hard water. I do prefer the liquid in general because it's way faster and easier to use. I would use this detergent over other top earth friendly options because our clothes truly feel and smell clean after washes.
Page
1