Roobar Cacao Brazil Nut Maca Roobiotic Pre & Probiotic Ball
Organic Raw Energy Ball
40g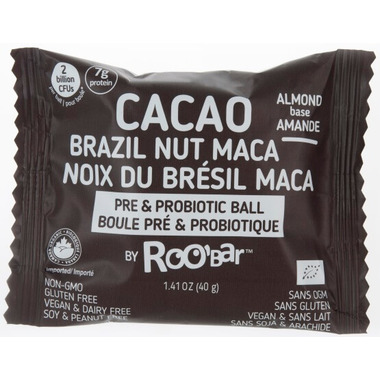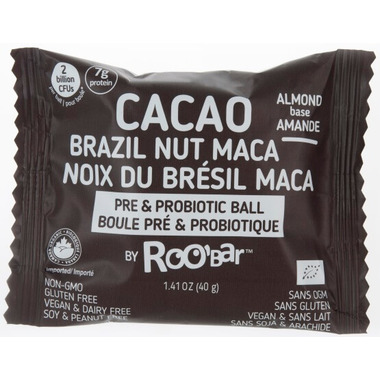 Roobar Cacao Brazil Nut Maca Roobiotic Pre & Probiotic Ball
Organic Raw Energy Ball
40g
If you are feeling playful, this invigorating blend of crunchy Brazil nuts, fresh almonds and potent maca will keep you going. Allow the Cacao to boost your senses with this chocolate perfection.

Native to the mountains of Peru, the maca plant is the one crop living at the highest altitude on Earth. A real plant-survivor, maca is a superb adaptogen – it enables your body to easily adapt to stress and promotes physical endurance. Maca is a superfood rich in protein, vitamins B1, B2, C and E, 20 amino acids, calcium and magnesium. Maca helps to keep your hormones balanced, it increases your energy and last but not least – livens up your libido.

Ingredients: organic almond, organic dates, organic hemp protein, organic rice protein, organic brazil nuts, organic cacao powder, organic maca powder, organic coconut blossom nectar, organic yacon syrup.