Roobar Guarana Coconut Vanilla Roobiotic Pre & Probiotic Ball
Organic Raw Energy Ball
40g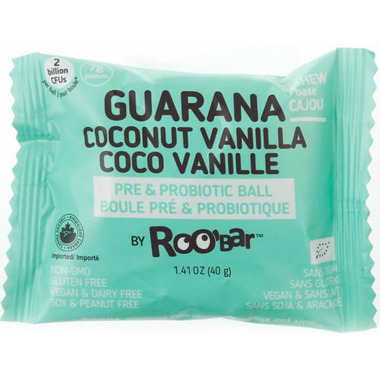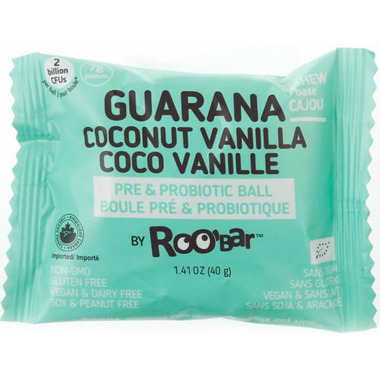 Roobar Guarana Coconut Vanilla Roobiotic Pre & Probiotic Ball
Organic Raw Energy Ball
40g
Overdoing coffee is not hip anymore. Choose this stimulating combination of sweet coconut and aromatic vanilla, all blended with creamy cashew. And the guarana is just for the extra energy kick you need.

Native to the Amazon tribes, Guarana is now popular all over the world for its incredible energizing effect. It is rich in caffeine and, unlike coffee, it is released slowly into the body and provides sustained energy. Guarana stimulates the nervous system and helps fight fatigue and improves memory. You can mix guarana powder with hot or cold drinks and use it for juices and smoothies. The recommended daily dose is 1g – just as much there is in Rooball Guarana & Coconut.

Rice protein is an excellent choice for vegans and non-vegans alike. It's rich in fiber, contains all 9 essential amino acids, it is hypoallergenic and easily digestible. Unlike the protein derived from white rice, the sprouted brown rice protein is processed with the bran and endosperm layers which makes it a complete protein. The regular intake of brown rice protein has a positive influence on the muscles, ligaments, skin, hair and nails and it prevents muscle fatigue.

Ingredients: organic cashew, organic raisins, organic coconut, organic coconut blossom nectar, organic yakon syrup, organic rice protein, organic guarana, organic Bourbon vanilla, lactobacillus acidophilus.